Swim With Dolphins
*** Dolphin Discovery Anguilla is closed until further notice ***
Due to damage sustained during the 2017 hurricanes, Dolphin Discovery Anguilla was forced to close.
All dolphins were evacuated in time and have since been relocated to Jamaica and Dominican Republic.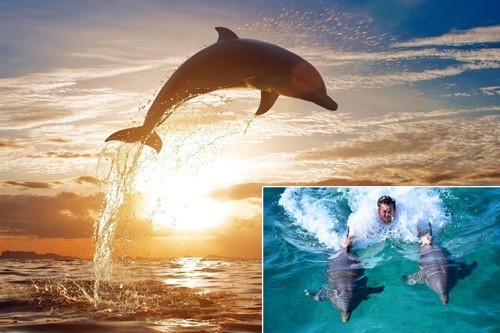 Dolphin Discovery Anguilla
One of the best attractions in the region, the fantastic Dolphin Discovery facilities are located in Blowing Point beach just a short walk from the harbour on Anguilla. Only 20 minutes direct transfer by fast boat from St Maarten Airport. Swim with Dolphins and be moved by these incredible marine animals. Dolphins are friendly and intelligent, prone to sharing their joy and charisma with visitors.
Enjoy a whopping 30% off at Dolphin Discovery Anguilla-St Maarten when you book your fast boat to Anguilla with us!
The facilities are some of the best in the world: the spacious eco-friendly habitat has been built with the open sea flowing in from all sides and plenty of space, water depth and unobstructed submarine views out. All of the resident dolphins were born and reared at Dolphin Discovery. The well-trained staff are there to guide you through the encounters with the animals and educate with stunning facts about the creatures you'll be meeting. Amazing memories will all be recorded in high quality by on-site professional photography.