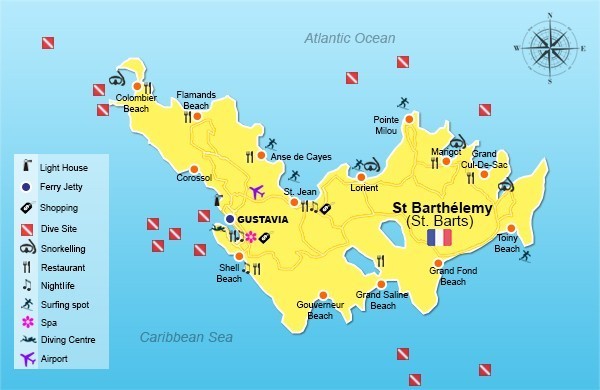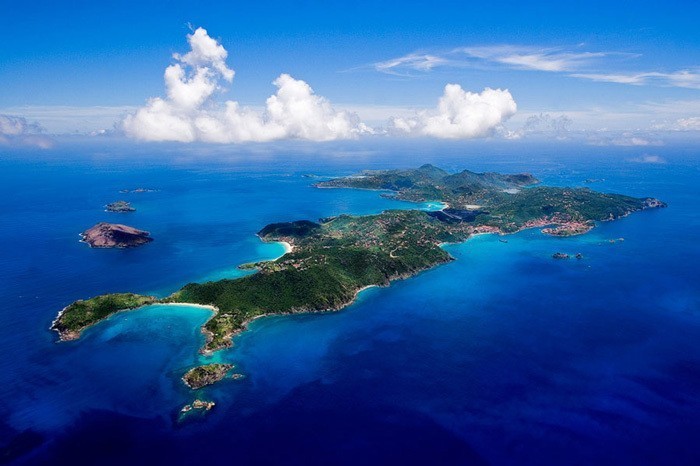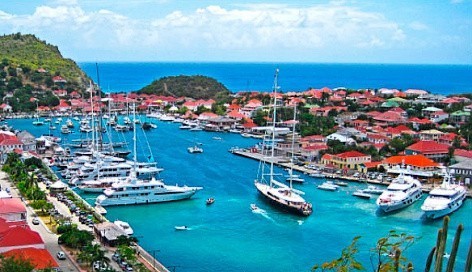 St Barthelemy
The ultimate luxury island of the Caribbean in French Riviera style, Saint Barthélemy is a must-see if you're visiting the region. Arrive in the stunning, super-yacht encrusted marina of the historic port town Gustavia, which was built by colonial Swedes over 200 years ago and is now populated by the French crème-de-la-crème and a wide variety of high fashion clothing, jewellery and perfume stores.
Saint Barth boasts stunning natural beauty on all sides, with its rugged and sparsely populated south-eastern tip somewhat reminiscent of British Highlands, caused by its permanent exposure to the prevailing Atlantic winds.
This strange mix of dramatic scenery and the accompanying tropical climate makes for a rather unique spot both in terms of the region and worldwide. The rest of the island is typically more lush, with tropical greenery adorning steep hills. Beautiful homes perch on these slopes, looking out over the sparkling ocean.
Wonderfully quiet beaches and coves can be enjoyed especially along the north and western coast. Even if you're just day-tripping you can head down to Shell Beach (which is only a short walk south of Gustavia) for a swim in crystal clear waters and a bite to eat at sunset in the classy beachfront bar-restaurant, Do Brazil.
The island also boasts a range of great activities to keep you occupied for any length of stay, most of which are of course water-based. Charter or rent a yacht, go Paddleboarding, Surfing or Scuba Diving and try out the latest watersport to hit the region: Seabob.
On land you can rent a car or quad-bike to explore the steep, narrow and winding roads without any real possibility of getting lost (reach anywhere in half an hour), or spend endless hours relaxing under the blue skies and baking sun on the beaches, with an occasional dip in the glistening sea to cool off.
There's a good reason St. Barts beaches are some of the most popular glamour shoot locations in the world, and you may spot more than a few models and/or celebrities during your stay. If you want to indulge yourself just hit up the classy designer stores and restaurants in Gustavia.
Whether just visiting for the day, or spending a little longer on the island, getting to St Barts couldn't be easier. Voyager offers daily high-speed ferry services from St Martin, while "The Edge" has ferry crossings on Tuesdays, Thursday and Saturdays from Simpson Bay, St Maarten.

A valid passport is required to travel to St Barths. NO visa is needed for citizens of the European Union, USA and Canada. Citizens of all other countries should check whether they require a visa before purchasing their ferry tickets. Click here for more visa information.
BEST PLACES TO VISIT ON SAINT BARTH
Gustavia - This tiny but bustling capital of Saint Barthélemy is a glamorous haven for the super-rich and a fantastic day trip location from St. Martin or base for a multiple day exploration of the island. The luxury of this destination is evident as the ferry begins to approach the dock, with sights of numerous sailboats and super-yachts moored in the picturesque marina.
Apart from its high fashion and jewellery stores, classy bars, restaurants and shining marina, Gustavia boasts some obvious visible history too. Founded more than 200 years ago by the Swedes and used as a base of operations for regional trade and naval skirmishes, this port town has some lovely old stone buildings to see. These include three forts, the most imposing of which sits atop a pronounced peninsula and is now occupied by the resident Gendarmerie. there is also a pretty lighthouse adorning the rocky outcrop above the town to the east.
Shell Beach - Just a stone's throw from the harbour and town centre of Gustavia, you'll find this pristine bay with its crystal waters and views out towards St. Kitts and Nevis.
An ideal destination for day trippers, you can splurge on shopping followed by lunch in the morning just opposite where the fast ferry arrives in Gustavia, sunbathe and swim at Shell beach during the day and enjoy a meal on location at Do Brazil before heading back to St. Martin on the 5pm crossing. Even better would be at least a night's stay on the island, allowing you to enjoy the spectacular sunset from the water's edge and sample a tasty French breakfast in the morning.
Baie de Saint Jean - Just over the hill eastward of Gustavia and down past the incredibly steep and short runway of the tiny airport you'll find the most popular and stunning beach of the island. Some of the most impressive luxury resorts are located here, but just a few hundred yards inland you'll find some wonderful accommodation to suit a more modest budget.
The bay is a good place for surfing and the new watersport known as "Seabob", which is a small personal underwater scooter that you can use to experience the speed and versatility of fish-like swimming. There are plenty of places to eat and drink and just opposite the airstrip you can rent a car with AVIS to explore the island and its many other bays, coves and beaches for a discounted price if you book your fast ferry with StMartinbookings.com.
Explore the Island - Rent a quad-bike in Gustavia or a car from AVIS to enjoy the steep winding roads around the shores and hills of Saint Barthélemy. Gorgeous views await at every turn, and the terrain will get particularly outstanding and rugged on the coastal road looping the south-eastern tip of the island. This culminates in Anse de Grand Fond (beach) where experienced surfers may find the waves irresistible, but certainly not to be trifled with.
Grand Fond Bay/Toiny Beach is at unique and spectacular area of natural beauty and is well worth a visit if you're doing a road trip of the island. You can't get lost on St. Barts, due to its small size. Just driving in one direction will have you back where you started before too long. There are also great walks to be had among the rugged green hills if you're willing to park the car for a little while. Get a 15% discount on car rental at AVIS when you book a fast ferry to Saint Barths using our homepage search function.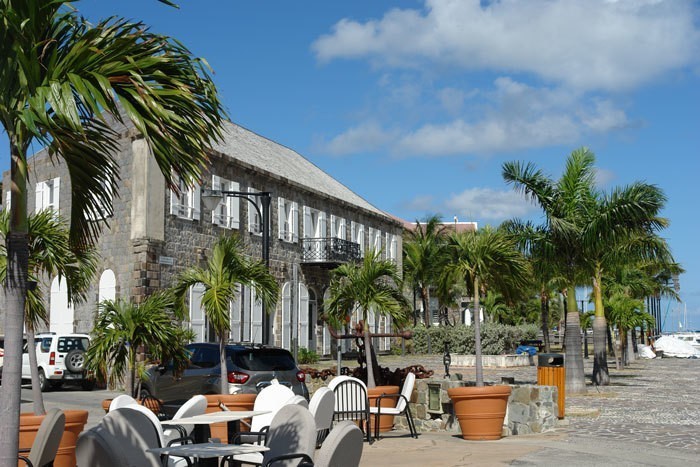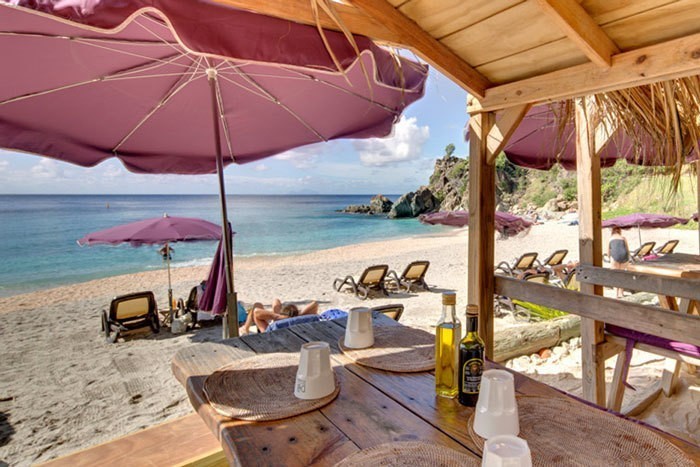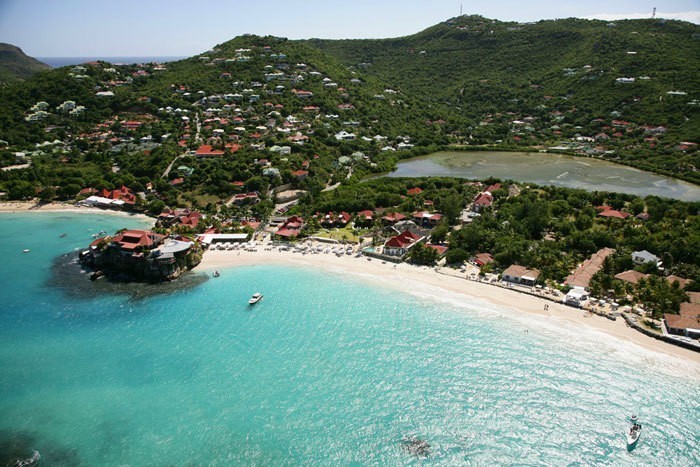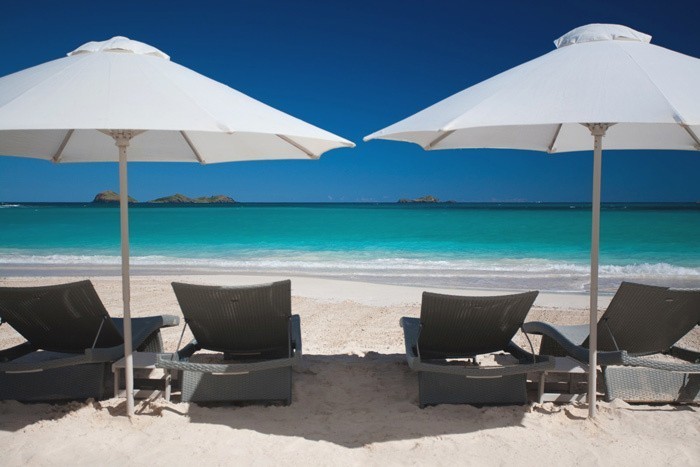 BEST THINGS TO DO ON ST. BARTS
Designer Shopping - Right across from the ferry landing, lining the road past the glitzy marina you'll find a number of luxury jewellery and fashion stores, interspersed with chic places to lunch. Big names at duty free prices attract the wealthy locals and tourists alike. You'll find the likes of Hermès, Louis Vuitton, Chopard, Bulgari and Cartier to name but a few.
There are plenty of unique local stores to browse as well. Most of the best places are found in Gustavia, but nearby St. Jean (just over the hill to the east) has its fair share as well. In short: Saint Barthélemy is a shopper's paradise for those with the money to spend.
Spa - Venus Health & Beauty Spa, located on the main high street of Gustavia just a short walk from the ferry landing, is a wonderful little privately operated Spa and beauty centre run with the professionalism that comes with long experience and expert training. A wide range of wellness treatments are on offer, from vital full body massage to facials, manicure and even chiropractic therapy. As a StMartinbookings.com customer you will receive generous discounts on selected treatments. For more information view our Special Offer pages.
Diving - Nestled snugly on the southwest side of the marina in Gustavia (just below the fort) you'll find St. Barts best dive shop: La Bulle. Offering awesome excursions to the myriad dive sites under the spectacularly clear waters around the island (including to the well-established marine reserves that boast a thriving population of protected sea turtles), La Bulle is the perfect choice for beginners and experienced divers alike.
Surf - Saint-Barthélemy has a number of excellent surf locations, with a number of bays shaped perfectly to produce consistent barrels: Toiny, Lorient, Anse des Cayes and Saint-Jean. Equipment is for rent in a number of specialised Surf shops, mainly concentrated in St. Jean and Gustavia. The shops are a good place to find a local guide for first time surfers.
Windsurfing is a somewhat more accessible sport for first timers. Winds around St. Barts can be strong, and when they are you'll see the colourful display of wind-sails flying across the wide bays of the northern coast. Most of the time, winds are blowing moderately enough to allow amateurs to develop their technique. In St. Jean and in Grand Cul de Sac, beach clubs offer windsurfing equipment for rent and provide tips and guidance for beginners.
Snorkelling - One of the most accessible activities to engage in right off the beach, simply grab some goggles, snorkel and some flippers and discover the amazing underwater scenes of the tropical soft corals, vibrant fish and with any luck, turtles that surround the shores of St. Barts. Make sure to use waterproof sunscreen or wear a shirt to protect your exposed back! The best Snorkelling location recommended by locals is Anse de Marigot on the northeast end of the island.
SUP - Head over to Grand Cul de Sac bay to Stand Up Paddle adventure St Barths to enjoy this trendy & healthy activity. Enjoy special offer prices as a StMartinbookings ferry ticket holder, simply select SUP adventure from the list of discount vouchers during your ferry booking process.
Jet-skis and Kayaks can also be rented from the same inlet, and good lunches with cool drinks are available at La Gloriette, right on the beach. Recently, SUP Adventure have started to also offer SeaBob rental, allowing you to swim like a dolphin using a powerful underwater electrical scooter, guided, in a group or alone.
Yellow Submarine - A semi-submerged glass bottomed excursion that offers spectacular views of the marine life and ocean floors from the comfort of an air-conditioned cabin. Continuous access to the sun deck above allows you to catch some rays or watch the pelicans and view the rugged shores of St. Barts. Among the sea life you're almost guaranteed to see are parrot fish, angel fish, barracudas, sting rays and even majestic turtles.
Seabob St. Barth - Ever wondered what it feels like to power through the water like a dolphin? The SeaBob water scooter is like a cross between a jet-ski and a bodyboard - allowing the user to leap through the waves or turn downward and head for the ocean floor with speed, grace and agility. Enjoy 10% off at Seabob St. Barth as a StMartinbookings customer! This brand new watersport represents one of the most exciting and unique ways to explore the tropical waters around Saint Barthélemy.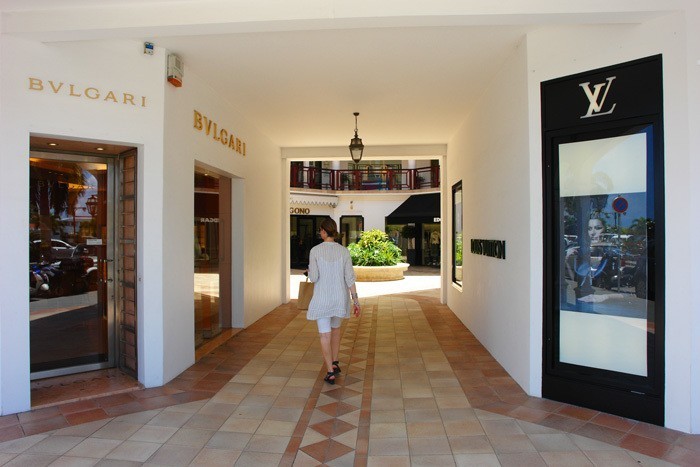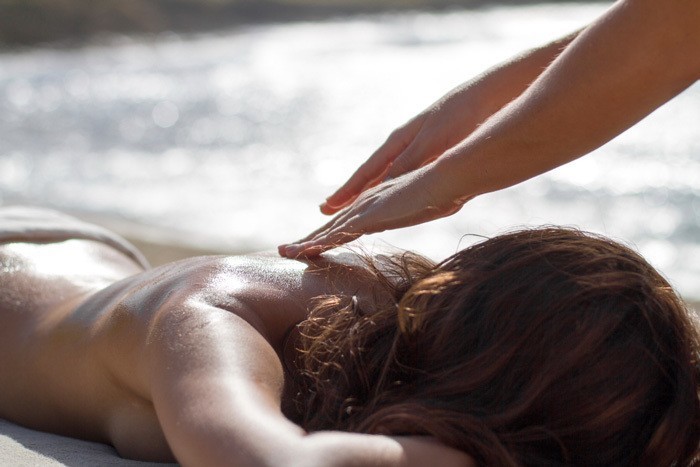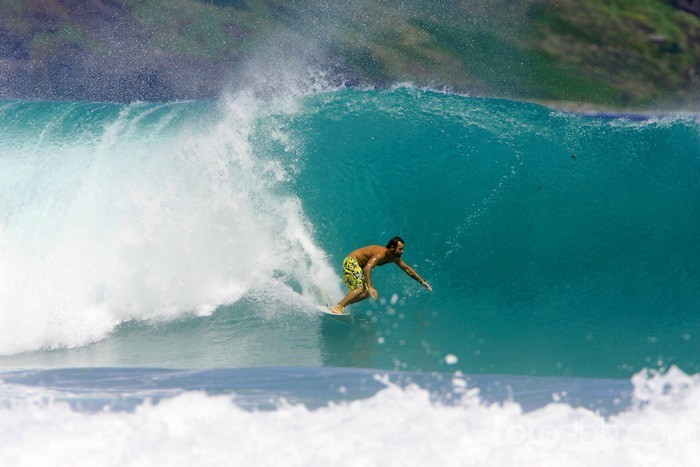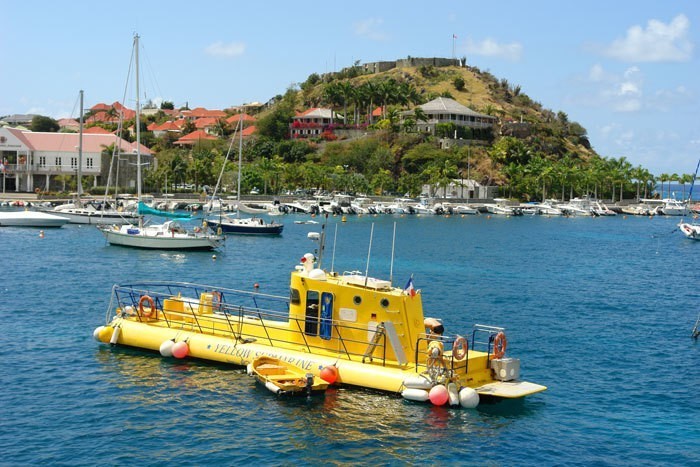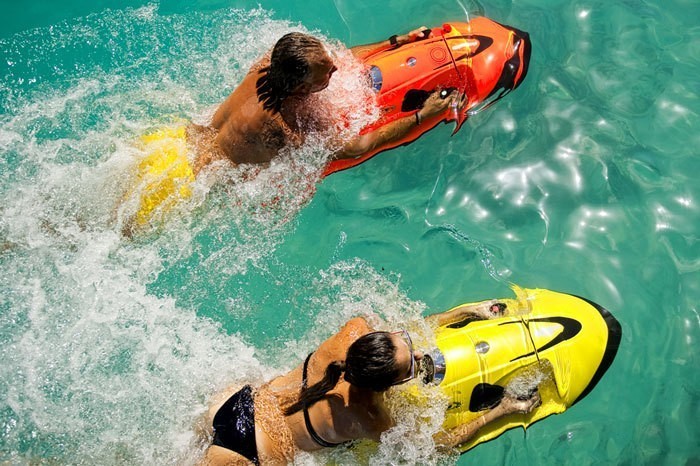 © Christian Lange Seabob St Barth
BEST PLACES TO EAT & DRINK ON ST. BARTS
Côté Port - Exceptional lunch and dinners right on the water's edge in the south end of Gustavia's marina, this restaurant has a great ambience both during the day an throughout the evening and is relatively affordable by St. Barts standards. A good wine list and locally caught fresh seafood gourmet are the highlights here.
The street outside approaches some of the more historic areas of town, including the hill fort and old Musée Territorial de St.-Barthélemy. The charm is almost tangible.
La Cantina - Head here for great French breakfasts and lunch. Located in central Gustavia and featuring picturesque views out over the marina and fort, enjoy a tasty crêpe or baguette here with your morning coffee.
La Gloriette - On the eastern side of the island, nestled in the Grand Cul de Sac cove, you'll find a nice little beachside lunchroom serving affordable meals and drinks. Great for fresh fish or Pizza to satisfy your hunger after spending the day on the water with one of the many activities available right off the beach there, such as Jet-skiing or Stand Up Paddle boarding.
Le Carre - Surrounded by some of the most glamorous fashion stores of Gustavia, get a well needed break from the hot sunshine and enjoy a perfectly prepared lunch here. Return in the cooler evenings for stylish evening meals and the occasional party event. Friendly owner and chilled-out setting, right accross from the classy marina and arrivals harbour.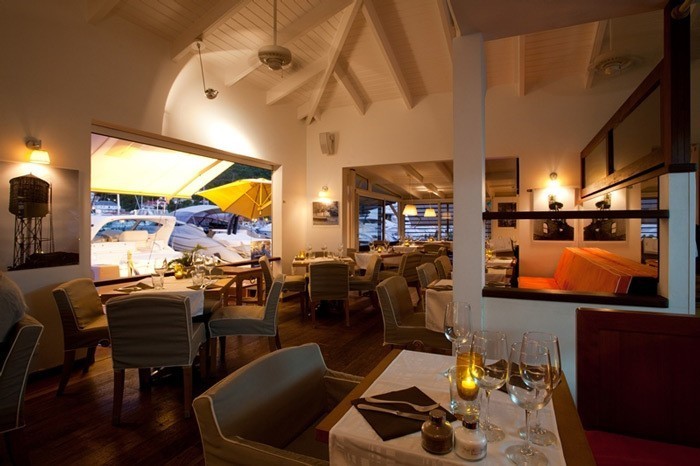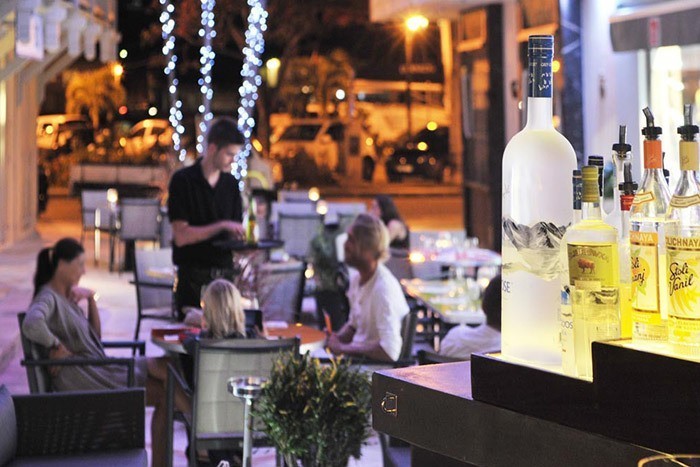 NIGHTLIFE ON SAINT BARTHÉLEMY
Do Brazil - Located on Shell Beach, this trendy cocktail bar also serves great Sushi and Tapas and hosts live music every night. Shell beach is an ideal spot to hang around for the entire day, sunbathing on the sand and taking a dip in the crystal clear sea.
In the evening Do Brazil buzzes as one of the few places to really party on the island. Things only really get going after midnight, so plan on seeing the sun rise! Cool down from dancing on the beach, jump in the warm water or take a romantic walk up and down the soft sand under the star studded sky.
Being within walking distance from Gustavia town centre, it's not difficult to make your way back to accommodation on foot after an intoxicating night. A snooze on the beach until morning is also a possibility.
Pink Parrot Beach Bar - Part of Tom Beach hotel in idyllic St. Jean bay, this colourful trendy bar offers great ambience at the crystal waters edge on one of the world's very best beaches. Cocktails, great wines and import beers can be enjoyed with your feet in the spotless sand, often accompanied by live music.
Full meals are available in the adjacent restaurant. And if you need to relax and recover from all the partying the next morning, there's a massage area next door!
Baz Bar - In the heart of Gustavia, this is one of the best places on St Barthélemy for regular live music and casual island nightlife. Friendly atmosphere, a good range of drinks available and serves great Sushi at dinnertime.