Restaurants & Bars
Due to the melting pot of cultures and exotic native ingredients, Caribbean cuisine is a deliciously vibrant blend of Creole, South American and European flavours, all brought together with a touch of island spice. Surrounded by the rich waters of the Caribbean Sea and Atlantic Ocean, you can be sure that wherever you are in the region, fresh seafood will feature heavily on almost every menu. Catering to a broad variety of international palettes, St. Martin, Anguilla, Saba and St. Barts restaurants range from informal beachside diners to 5-star a-la-carte establishments.
Proudly featuring some of the best restaurants in the region, we are continually looking to add new eateries to our list of special offer partners on all the local islands. To benefit from some great discounts on food and drink during your stay in the, simply select any of the offers below when booking your fast ferry ticket with us. You'll receive a discount voucher along with your e-tickets. Just print-off the voucher and take it with you for redemption at your chosen restaurant. Bon appétit!
Auberge Gourmande Saint Martin

This world class restaurant in idyllic Grand Case on French St Martin is by far our highest recommended restaurant in the region, and one of our all-time favourites anywhere.
The expert French and Caribbean cuisine bursts with flavour and is cooked to perfection (we suggest sampling the mouthwatering scallops). This combines with a pretty colonial decór and friendly atmosphere to make Auberge Gourmande the culinary mecca of the island. Prices are quite high-end but still affordable, the wine list is excellent and the portions satisfyingly large. Not to be missed!
When you book a fast boat or ferry to any of the surrounding islands on StMartinbookings.com you will recieve a free glass of champagne with your meal at L'Auberge Gourmande. Simply select the discount from the list at the end of our straighforward booking process to receive the voucher.
Pre-bookings only: [email protected] - (590) 877 337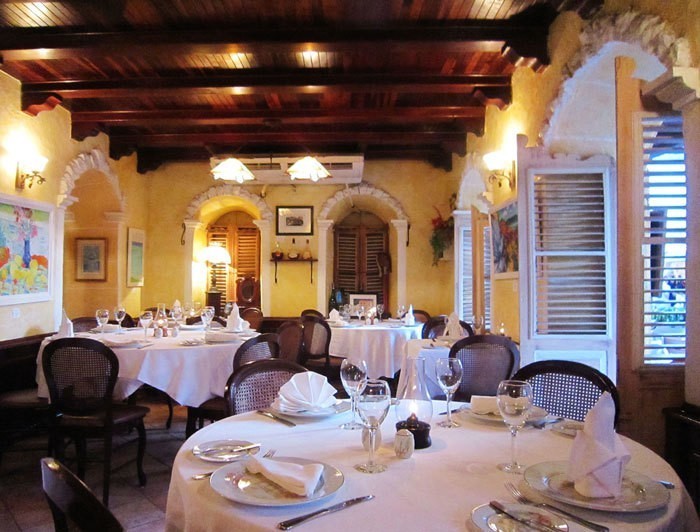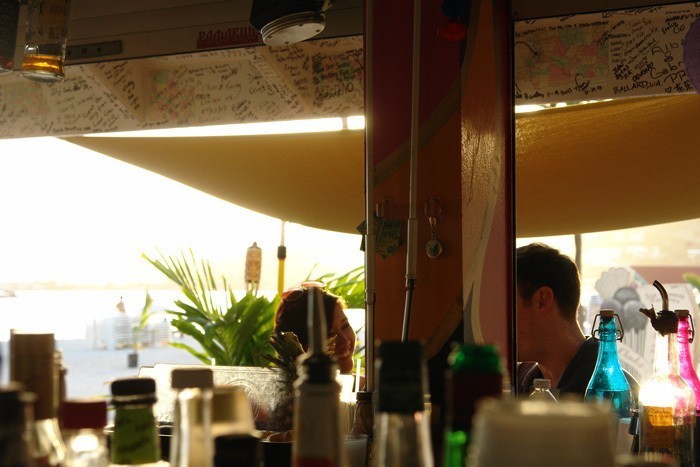 Dirty Sanchez Crew Bar Sint Maarten

Located on the beachfront boulevard in Philipsburg, this trendy little bar will blow your mind with fresh tropical cocktails made to perfection, friendly staff (often dealing out complementary shots inbetween drinks) and gorgeous views out over great bay and the warm sunset glow beyond.
If you book a fast ferry to one of the neighbouring islands (Anguilla, St. Barth or Saba) with us, you will be able to download and use the Dirty Sanchez bar special offer voucher for an extra happy hour deal.
This gets you an extra $1 off per drink during the already reduced prices of happy hour, exclusive to StMartinbookings customers.
The perfect way to start the night on Sint Maarten!
Scout's Place Bar & Restaurant Saba

In the Scout's Place bar you can meet divers, tourists and locals alike. Experience the famous sunset while enjoying a drink on one of the panoramic terraces. Spend an afternoon by the pool overlooking the sea while sipping a cocktail, or linger in the beautiful garden courtyard. Scout's Place also offers great accommodation.
The Restaurant serves hearty breakfasts and boasts spectacular views out over the island and sparkling Caribbean Sea far below.
Both local and European chefs cook traditional Saban dishes, Caribbean specials, European and international cuisine. Fresh seafood catch of the day, famous Saba lobster, spit roasted chicken & local Saban Goat stew are among the specialities. Get 10% off your restaurant bill at Scout's place when you book your ferry to Saba with us.