Diving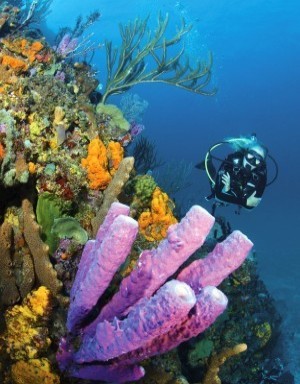 If you dream of warm turquoise waters and paradise islands surrounded by world-famous underwater pinnacles, shallow reefs, canyons and wrecks, all teeming with an abundant array of multi-coloured marine life… then diving St Martin and its neighbouring islands is where you need to be!
Diving in this part of the Caribbean is a year-round activity, with water temperatures rarely dropping below 77°F (25°C) in the winter season (Nov-Mar) and averaging 81-84°F (28-29°C) during the summer period (Apr-Oct). You can expect great visibility too with some locations boasting up to 300ft (90m), turning the Caribbean Sea into a giant aquarium ready for you to explore. Check out our Diving Special Offers, available exclusively when you book your fast ferry tickets with StMartinbookings.com
Marine conservation has played a major role in preserving the natural beauty of the much of the region's underwater environment, which explains why some locations are often listed in the world's top 10 best places to dive! The nutrient-rich waters of the Caribbean play host to pristine reefs that in-turn support over 500 species of fish; expect to see schools of jacks and snapper to eagle rays, sharks, turtles and dolphins. And with each island offering a unique diving experience, from extinct lava tubes to historic shipwrecks, it's easy to see why divers keep coming back to explore this incredible underwater realm.
From the complete novice to the experienced professional, this corner of the Caribbean has something special to offer all levels of divers. StMartinbookings.com only works in partnership with the region's most knowledgeable and professional dive operators, to ensure your have a fun, safe and enjoyable experience.
From coral encrusted wrecks on the Dutch side, to colourful reefs on the French side of the island, St Martin/Sint Maarten, along with some great snorkeling opportunities, offers some of the most diverse diving in the region. With a choice of more than 30 dive sites around the island, there are plenty of great things to see. Protected by nature reserves, the prolific reefs accessible from French St Martin are a treasure-trove of marine life while the Dutch side offers a variety of wrecks, walls dives and swim-throughs.
To make St Martin/Sint Maarten diving more accessible we've selected diving partners on both the French and Dutch sides of the island. Located in beautiful Grand Case, Octopus Diving is ideally situated to explore St Martin's uncrowded dive sites as well as those in the Anguilla Channel and around the small island of Tintamarre. Focussing on the south of the Island, Ocean Explorers offers a variety of wreck/dive excursions including their own shark-diving encounters.
Recommended Dive Sites: Big Mama's Reef, Circus and HMS Proselyte
Powdery white-sand beaches, clear turquoise waters and a string of luxury resorts and restaurants have led to Anguilla being rated as one of the Caribbean's best destinations. But while the focus has been on the beaches, Anguilla scuba diving has remained relatively unknown. Boasting seven marine parks with spectacular coral reefs, teeming with life, as well as one of the highest concentrations of shipwrecks in the world!
From Shoal Bay, the main centre of diving activity, our selected diving partners will guide you to the best dives sites around the island. Shoal Bay Scuba is the largest operation on the island offering a full range of diving and snorkelling excursions, as well as PADI courses. For more private diving charters, Vigilant Divers offers personal guiding services as well as PADI instruction with a 4 diver limit on any of their activities.
Recommended Dive Sites: El Buen Consejo wreck, Stoney Bay Marine Park and Scrub Island
Better known as a tropical getaway for the rich and famous – with designer boutiques, world-class dining and more super-yachts than you can shake a stick at – St Barths offers some incredible scuba diving opportunities for those willing to take the plunge. Protected by a Marine Reserve, most of the 22+ dive sites are within easy reach of Gustavia harbour with some dive sites only a 5 minute boat ride away!
Dive sites are varied with a good mix of colourful reefs, walls and coral-encrusted rocks which, along with a few shipwrecks, are home to a healthy population of brightly coloured reef fish, angelfish, stingrays, tarpons and nurse sharks as well as lots of turtles; during the winter months, you might even catch a glimpse of dolphins and whales cruising past. Our selected diving partner – La Bulle – has years of experience in the region and is eager to show you what diving in St Barths is all about.
Recommended Dive Sites: Pain de Sucre, Groupers and Les Petits Saints
Rising dramatically from the azure waters of the Caribbean Sea, the tiny island of Saba is an eco-tourism paradise whose natural beauty abounds both above and below the waterline. Often listed as one of the world's top 10 places to dive, the rich marine environment attracts divers from around the globe. Volcanic structures, prolific reefs and deep water pinnacles are just some of the highlights you can expect when diving Saba. With almost 30 dive sites to choose from, all falling under the protection of the Saba Marine Park, divers are rewarded with healthy reefs, an abundance of colourful corals and sponges and an incredible array of marine life from turtles, rays and sharks to schools of grouper, jacks and snapper. And with visibility sometimes reaching up to 150ft (45m) diving in Saba is like being in one gigantic fish tank!
The island's fully equipped and well-experienced dive operators all offer daily diving excursions to the island's best dive spots. Sea Saba has two locations, one at Fort Bay and a full retail store in Windwardside along with Saba Divers, who also has a dive base down at Fort Bay. There's only one harbor on Saba, so the dive shops are right where the ferries arrive. They also provide a range of dive courses and instruction, as well as organise snorkelling trips to some of the more accessible sites, most of which are only a 15 minute boat ride away!
Recommended Dive Sites: Tent Reef, Man O'War Shoals, Hole in the Corner