St. Martin Snorkeling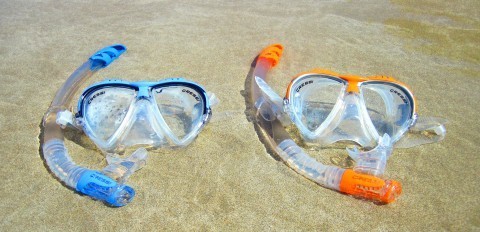 The Caribbean island of Saint Martin/Sint Maarten offers some great snorkeling opportunities for all levels of experience. Warm crystal clear waters, teeming with colourful marine life, is what you'll encounter on a St Martin snorkeling adventure.

Whether you're staying in the Dutch South, or the French North, the waters surrounding the island are a veritable underwater fairyland just waiting to be explored. And while some of the best snorkeling sites may be better suited to more experienced swimmers, or via an organised tour, many great snorkeling spots are readily accessible to beginners - right from one of the many beaches that surround the island. Check out our selection of the best St Martin snorkeling spots below. All you need is a mask, snorkel and some fins!
On the Dutch side – Snorkeling St Maarten

Mullet Bay
On St Maarten's southwest, just around the corner from the infamous Maho Beach, you'll find the easily accessible reef at Mullet Bay. Head to the northern-end of the beach (right-side as you look out to sea) snorkeling along the rocks until you reach Cupecoy Beach. Keep close to shore and be aware of the current.
Cupecoy Beach
Similar to neighbouring Mullet Bay, the reef at Cupecoy Beach is right along the shore and is home to a multitude of colourful reef fish. Access down to the beach near Sapphire Beach Club or, if you're feeling up to it, you could snorkel along the shoreline from Mullet Bay.
Dawn Beach
Situated on St Maarten's far eastern coastline, the reef at Dawn Beach is another great snorkeling spot with easy beach access. Being on the island's windward side there is often current and some surf, so be sure to take care around the reef.

St Martin Snorkeling – The French side

Baie Rouge and David's Hole
Famed for its reddish sands, Baie Rouge (Red Bay) is located in the Les Terres Basses region of northwest St Martin. The main attraction, as you head east towards Bluff Point, is the now collapsed sinkhole – David's Hole – and the stunning reef that extends out a few hundred feet from the shoreline. Teeming with fish and other marine life it's considered one of the best snorkeling spots on this side of the island.
Creole Rock
More suited to experienced swimmers, the tiny island of Creole Rock – a bird rookery – is a popular spot for snorkeling. Situated just north of Grand Case, you can either swim from the beach or, for the less experienced, you can join an organized trip. Once there, you'll be rewarded with crystal clear waters teeming with beautiful tropical fish.
Pinel Island
The islands lying offshore from Orient Bay, in the island's northeast corner, offer some absolutely fantastic snorkeling. Located in a protected Marine Reserve, Pinel Island can be reached by a short ferry trip across the lagoon from Cul de Sac. Upon arrival, head south (turn right) along the footpath for the Pinel Island Marine Trail – a designated snorkeling trail, marked with white buoys, that will take you safely along the reef. You can expect to see plenty of colourful reef fish, the odd stingray and maybe even a turtle! There's also some excellent snorkeling on the north side of the island.
Orient Bay Islands (Petite Clef, Caye Vetre & Tintamarre)
There are several smaller islets and rocks in and around Orient Bay, as well as the larger Ile Tintamarre a coupe of miles off shore, all of which also offer some superb snorkeling options. However, due to their distance from shore, most can only be reached on an organized St Martin snorkeling tour.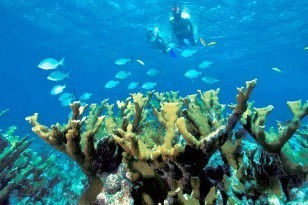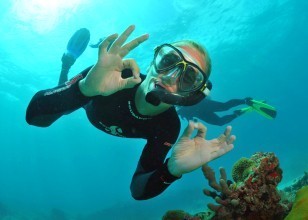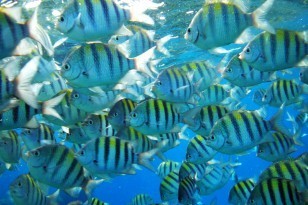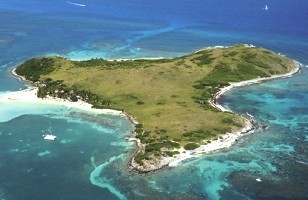 And if your curiosity takes you beyond what snorkeling can offer, then diving St Martin or one of the neighbouring islands could just be what your looking for. Hop on a ferry to Anguilla and discover some amazing wrecks, or why not experience some of the world's best dive spots with a visit to the tiny island of Saba. For more inspiration on what to see and do, check out our Travel Tips pages.