Anguilla Diving
Relatively unknown to the diving fraternity, the warm, turquoise waters around Anguilla offer divers some unique underwater experiences. Boasting one of the largest concentrations of diveable wrecks in the Caribbean has definitely helped put Anguilla diving on the map, but there's more to Anguilla diving than just shipwrecks. Mostly famed for its picture-perfect beaches and exclusive ambience, Anguilla is also blessed with not one, but seven marine parks which work to protect the delicate marine eco-system. Diving Anguilla is relatively easy-going with pretty coral reefs, soft coral slopes, wall dives and swim-throughs and of course famous wreck dives such as the Spanish galleon El Buen Consejo, with cannons on display, the Oosterdiep or the Sarah – Anguilla largest wreck at a length of 232ft (70m).
All of Anguilla's 20+ dives sites are easily reached in around 20 minutes and afford divers the opportunity to see more than 100 species of reef fish, colourful corals, and dramatic underwater rock formations, along with turtles, sharks and rays and other pelagics. The best way to experience diving in Anguilla is under the guidance of our selected diving partners: Shoal Bay Scuba – the island's leading dive centre offering daily dive and snorkel excursions as well as PADI diver training; and Vigilant Divers – perfect for small private dive charters and PADI instruction. You can find out more about each dive operator below.
Shoal Bay Scuba
With over 20 years' experience of Anguilla diving, Shoal Bay Scuba is Anguilla's only full-service PADI Dive Centre. Locally owned and managed, they offer daily diving excursions to all of Anguilla's best dive spots along with a full range of PADI diver training courses. They also offer private full-day diving adventures, half-day dive or snorkelling trips, as well as fishing and boat charters.
Click here for Shoal Bay Scuba special offers and discounts, only available when you book your Anguilla shuttle or fast ferry tickets with StMartinbookings.com
Location
Shoal Bay Scuba's dive shop, the Scuba Shack, is conveniently located in Sandy Ground right on the beach at Roy's Bayside Grill. From here you can book your dive or snorkel excursion, as well as buy or rent snorkelling equipment. It's also the departure point for all dive trips, private snorkelling and fishing charters as well as where they conduct their PADI diver training.
Dive excursions
For certified divers, Shoal Bay Scuba offers daily 2-tank dives every morning a 9:00am and a single tank dive trip at 11:00am. Single tank Night dives are also available on Thursdays evenings at 6:00pm.
All dive excursions leave from the Scuba Shack at Roy's Bayside Grill in Sandy Ground. Dive sites are usually chosen on the day based on weather conditions, diver ability and preferences and always with diver safety in mind. No minimum amount of divers are required for a trip… they'll take you out even if you are the only diver! And since all the crew are PADI certified, Shoal Bay Scuba is able to maintain low Divemaster-to-diver ratios, providing you with a truly personal, fun, safe and professional experience.
Dive Boats
Access to Anguilla dive sites is aboard one of their 2 dive boats. The Lady Lou is a custom-built 34ft vessel, built locally by Rebel Marine, and perfectly designed for diving Anguilla's waters. Able to carry up to 12 passengers in comfort and safety, it features ample seating, plenty of sun or shade, dry storage and a fresh water shower. The Thomas B is slightly smaller and is geared more towards snorkelling and fishing trips but can comfortable carry up to 6 divers.
Learn to dive
As a PADI Dive Centre, Shoal Bay Scuba is licensed to teach a full range of PADI diver training programs and courses, from Discover Scuba experiences and PADI Open Water Diver certifications for the complete beginner, all the way up to Divemaster or Assistant Instructor. Courses and instruction can be planned to fit around your vacation schedule.
Snorkelling
Next to its diving, Anguilla also offers some great snorkelling opportunities. Shoal Bay Scuba, aside from renting out high-quality snorkelling gear, also offers half-day snorkelling excursions to Prickly Pear Island that includes a freshly prepared lunch, served right on the beach, followed by time to explore the island and snorkel the reef that runs right up to the shore. Before heading back to Sandy Ground you'll also have the opportunity to do some snorkelling in the calm waters of Little Bay.
So for anyone interested in experiencing Anguilla's underwater world, whether visiting just for the day or as part of a longer stay, the crew at Shoal Bay Scuba are looking forward to sharing their love and knowledge of Anguilla's turquoise waters with you.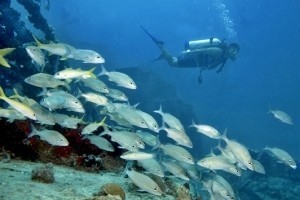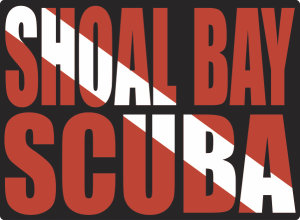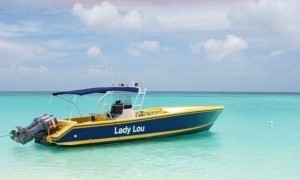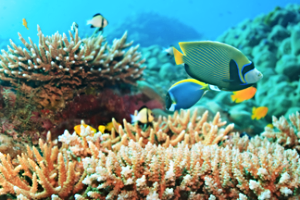 Vigilant Divers
If you're looking for that truly 'personal touch' when diving in Anguilla, then why not check-out Vigilant Divers. Offering guided diving and PADI instruction, owner/operator Rob Willsher has spent several years diving the reefs and wrecks of Anguilla's turquoise waters and is eager to explore the wonders of the deep with you.
Only ever taking a maximum of 4 divers at any one time, Vigilant Divers is flexible when it comes to planning your Anguilla diving excursions and can tailor-make a trip based around your preferences, taking safety and your skill level always into account when planning your dives. Being a smaller operator allows Rob to get the pick of the sites by leaving a little earlier than the rest (around 8:15am) from his dive base by Jonny's Bar in Sandy Ground.
From the white-sandy shores of this calm bay you'll head out on his 30ft Boston Whaler 'Vigilant' to one of Anguilla's 20+ dive sites. Powered by 2 x 225hp Yamaha outboards, most dive sites are easily reached within 15-20 minutes. The boat also features a 'walk-around' cabin, built-in head, fresh water shower and all necessary safety and communication/navigation equipment.
Let Rob guide you around Anguilla's famous wrecks, such as the Oosterdiep which sits in about 75ft (22m) of water on a sandy bottom, rife with garden eels, or the Sarah – the biggest wreck in the area – mostly intact, allowing divers to penetrate the structure and move between the three holds. If wrecks are not your thing, there are plenty of other reefs and interesting sites for you to explore, including 5 wall dives and 'The Hole in the Wall' – a 30ft (10m) swim-through that opens up to the surface. Anguilla's wrecks and reefs are home to a variety of marine life and divers are often graced with turtles, moray eels and blacktip reef sharks as well as eagle and southern rays.
For those that are not yet certified, Vigilant Divers also provides highly individualised PADI instruction and offers a range of courses, from the complete novice wanting to experience scuba for the first time, to specialty courses for certified divers looking to broaden their diving knowledge and skills. As one would expect, the PADI Wreck Diver and Nitrox Diver courses are very popular!
Vigilant Divers is all about personal service - not surprising when diving with the owner - and with flexible schedules and a feeling of freedom, will make every dive feel like your own private dive trip.
Check here for Vigilant Divers latest special offers, exclusive to StMartinbookings.com customers when booking your speed boat to Anguilla.