Funtime Charters Anguilla
Funtime Charters has been proudly carrying passengers between the main airport in St. Martin - on the Dutch side of the island - and Anguilla since 1994. Their modern fleet of power boats operates a fast and reliable daily shuttle service, which includes complimentary transportation to/from the airport terminal, to ensure hassle-free transfers between the islands of St Maarten/Martin and Anguilla.
To check departures times and live seat availability for your Anguilla airport shuttle just select your route, dates and number of passengers and click 'Search'. You can then book and pay securely for your tickets using your credit/debit card or PayPal account. Online bookings can be made up to 24 hours before departure. E-ticket confirmation will be sent to you immediately. It's that simple!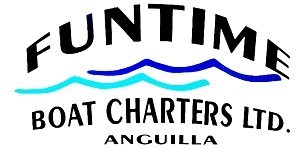 St Maarten to Anguilla
Opertaing from 1st November until 31st August every year, and with up to 6 departures a day, getting to Anguilla is easy with Funtime Charters! Dedicated to providing the very best in service, their fleet now boasts a total of 7 high-powered vessels capable of whisking you safely from St Maarten to Anguilla in just 20 minutes!
For passengers arriving at SXM* (Princess Juliana Airport St Maarten / St Martin) you'll be met in the arrivals area by one of their crew who will transfer you and your luggage to the specially built dock located less than 5 minutes away from the airport. Upon check-in their staff will request your passport in order to prepare the necessary customs paperwork and will assist you with completing any customs & immigration forms.
Once on board you can sit back, relax and enjoy complimentary refreshments - including their famous Funtime Rum Punch - while their experienced crew transports you in comfort across the Anguilla Channel to Blowing Point Ferry Terminal on the island's southern shoreline. Upon arrival your luggage will be taken right up to customs and will be waiting for you once you complete any immigration formalities.
Not planning to stay overnight on Anguilla? Then you'll be happy to know that Funtime Charters also offers scheduled day trips to Anguilla at greatly reduced rates, making Anguilla's world-class beaches, spa resorts and championship golf course even more accessible.

Departing St Maarten every day (except Saturday) at 8:30am and returning the same day at 4:00pm you'll have plenty of time to soak-up Anguilla's laid-back atmosphere, have lunch at a beachside cafe or even go for a dive on one of its many wrecks. Click here to check Anguilla day trip availability and prices.
Features:
Meet & Greet Service at SXM airport*
Complimentary transport between airport terminals and dock*
High speed transfers – less than 20 minutes!
Maximum capacity – 19 passengers for comfort and safety
Up to 6 departures a day
Complimentary refreshments (beer, soda, water)
Full Insurance coverage
Designed and built to International Standards
Marine Grade fibreglass construction
Trained and professional crews
*Conditions apply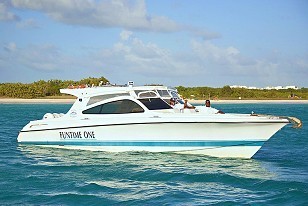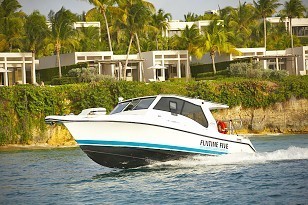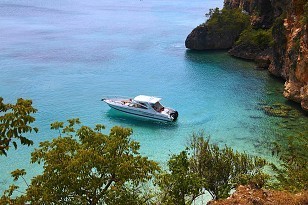 Schedule & Route Map:
FUNTIME CHARTERS
ST MAARTEN


Princess Juliana Airport Dock

ANGUILLA


Blowing Point Ferry Terminal
9:00am

(Sun-Fri)

*5:45am
11:45am
8:30am
12:45am
9:30am
1:45pm
10:45am
2:45pm
12:00pm
3:45pm
1:30pm
4:45pm
2:15pm
5:45pm
3:30pm

(Sat. only)

-
4:00pm

(Sun-Fri)

NOTE: Schedule valid until 31 August 2017

* In addition to their regular daily services, Funtime Charters also provides an 'Early Morning' transfer - Special prices applicable.
St Maarten-Anguilla Dock, Airport Road, St Maarten
Anguilla Blowing Point Ferry Terminal
Prices: Anguilla Departure Tax not included
Same Day Return

Adult
= US$ 80

(13+ yrs)

Child
= US$ 40

(3-12 yrs)

Infant
= Free

(<2 yrs)
One-way

Adult
= US$ 70

(13+ yrs)

Child
= US$ 35

(3-12 yrs)

Infant
= Free

(<2 yrs)
Return

Adult
= US$ 140

(13+ yrs)

Child
= US$ 70

(3-12 yrs)

Infant
= Free

(<2 yrs)
Early Morning Shuttle

Adult
= US$ 190*

(13+ yrs)

Child
= US$ 190*

(3-12 yrs)

Infant
= Free

(<2 yrs)
* Early Morning Shuttle prices valid up to and including 31st August 2017 - Adult & Child fares = US$ 190 one way.
Departure Tax:

Anguilla Departure Tax is CASH ONLY payable to the Government of Anguilla upon departure from Blowing Point Ferry Terminal.
Adult
= US$ 28
Child
= US$ 18

(5-12yrs)

= US$ 8

(2-4yrs)

- Security Tax
If travelling on a Same Day Return, reduced rates apply:
Adults & Children (5-12yrs) = US$13 / (2-4yrs) = US$8 – Security Tax
Additional Information:

IMPORTANT: A valid passport is required for travel to/from Anguilla
Check-in procedure
for passengers arriving at Princess Juliana Airport, St Maarten
A representative of Funtime Charters will greet you in the arrivals hall, assist you with luggage and direct you to their air-conditioned vehicle, which will transport you and your luggage the short distance to the purpose-built dock. Check-in at the dock is quick and easy. Passports, along with your StMartinbookings.com e-ticket, will be requested by the check-in staff in order to complete the manifest for the trip to Anguilla. Passports will then be returned to you along with the customs and immigration documents necessary for entry into Anguilla. Funtime Charters staff will be on hand to assist you with completing the forms.

Please note: The above Meet & Greet/Transfer service is not available on Same Day Return fares
for all other passengers departing from St Maarten / St Martin
Passengers may check-in at the St. Maarten-Anguilla dock up to 45 minutes before their scheduled departure time, to ensure they have enough time to complete the necessary documentation and to clear immigration. Simply present your StMartinbookings.com e-ticket to the Funtime Charters check-in representative, along with your passport, so that they can prepare the manifest for your trip. Your passport will be handed back to you along with any immigration and customs forms required for entry into Anguilla. Check-in closes 15 minutes before departure!
for all Anguilla departures
Passengers must arrive at the Blowing Point Ferry Terminal at least 30 minutes before the scheduled departure time. Just present yourself, along with your StMartinbookings e-ticket, at the Funtime Charters kiosk. Their friendly staff will request your passport and prepare the manifest for the trip to St Maarten. Your e-ticket will be exhanged for a Funtime Charters Boarding Pass at this time. Passports will be returned prior to the security screening and boarding process. For passengers continuing on to the Princess Juliana Airport, transport will be waiting to transfer you and your luggage to the departure terminal.
Luggage allowance
Each passeneger may take up to 3 pieces of luggage (maximum 50lbs per piece) in addition to their hand/carry-on luggage.
Pets are permitted and must be carried in a suitable cage for the duration of the journey. An additional charge of $25 each way will apply - please contact us for more information.
Note: Porters are available at both the St Maarten dock and on Anguilla to assist you with you luggage to/from the boat - gratuities are customary.
Cancellations
100% refund if cancelled more than 2 weeks before departure
50% refund if cancelled less than 2 weeks but more than 48 hours before departure
No refund if cancelled less than 48 hours before departure or for No-shows
Date changes possible at any time, subject always to availability

Immediate online bookings, e-tickets, check availability with Funtime Charters ferry to Anguilla, only available on StMartinbookings.com