Watersports specials
Sint Maarten and its surrounding islands offer a wide range of waterbased activities. Our selected partners offer an extensive range things to experience, from (speed boat) Parasailing and Helmet Diving to Stand Up Paddleboarding and Seabob. The warm tropical temperatures, abundance of sea life and great visibility make water activities all the more memorable and enjoyable.
All StMartinbookings customers can benefit from a range of special offers and discounts on some of the best regional activities. Simply select as many offers as you like during the fast ferry booking process.
Seabob St. Barth
Seabob St Barth is The New Way To Enjoy The Sea and offers fun and exciting water activities revolving around the most powerful underwater scooter: The Seabob! Speed through the water like a dolphin, both on the surface and at depth. Environmentally friendly, the unique float cuts smoothly and silently through the water. Seabob can be enjoyed alone, with family or friends, during a Beach rental anywhere on St Barth or during an innovative Seabob Activity:
Initiation for children from 8 years old, as well as adults that want to discover the sport under the guidance of a certified instructor.

Starting from one of St Barthélemy's idyllic beaches, the Seabob Snorkelling Tour takes you on a fascinating underwater adventure, under the safe supervision of a qualified and competent guide.

Defy gravity like a Superhero during the Bob & Fly (Seabob and Fly/Hoverboard) or join Seabob St. Barth for the ultimate adventure: The James Bond Xperience, a custom itinerary combining several different activities such as Seabob, Jet-ski, Flyboard, Hoverboard, Scuba Diving, etc. Unforgettable!
When you book your ferry to St Barts using the search box on the StMartinbookings homepage, you will be entitled to 10% discount at Seabob St Barth. Simply download the voucher at the end of the booking process and use the contact details to pre-arrange your Seabob activity!

© Christian Lange Seabob St Barth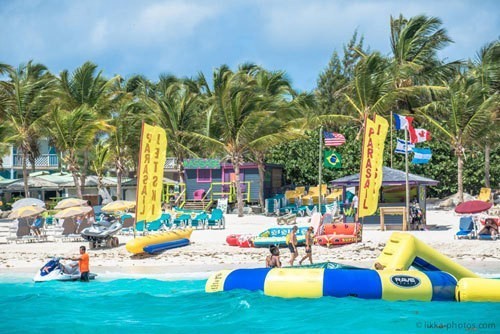 Watersports La Playa - Saint Martin
Enjoy a whopping 20% off all activities at this enigmatic establishment, located on the stunning beach of Orient Bay on the French side of St. Martin. Fully insured, Watersports La Playa is ranked by TripAdvisor as among the very best attractions on St. Martin and it is well worth trying out more than a few of their broad range of water-based activities.
Experience the thrill, breathtaking panoramic views and pure flight of parasailing. Single, double or triple tandems are available. The professional crew ensures a safe and memorable experience. Parasailing provides amazing 360° views out to the neighbouring islands such as St Barths, Anguilla and Pinel. You may even see wild turtles swimming underneath you! Suitable for children and adults.
Jet Skiing, Tubing, Banana Boat rides, Water trampolining and Snorkelling are also available at the discounted price with Watersports La Playa when you book a ferry to neighbouring islands with StMartinbookings.com. Just select the voucher during our simple online booking process.
Tiki Hut Snorkel Park St. Maarten
Nestled in a protected cove below Fort Amsterdam, Tiki Hut Snorkel Park offers acres of calm waters boatsing six ship wrecks, 16th century sunken cannons and even a scuttled yellow submarine. Hundreds of tropical Caribbean reef fish call these wrecks home. Turtles, rays, eels, lobsters, octopus etc visit frequently.
After a scenic boat ride, arrive at the private floating Tiki Hut Island. A certified instructor will provide a briefing on the use of the snorkel equipment. There is a practice pool to acqauint first time snorklers with the necessary skills. Experienced instructors and safety personnel are present at all times. Guests are free to explore the park at their own leisure. Snorkel, swim or just relax on the floating lounge. Complementary beverages and modestly priced food are available on site and guests can stay as long as they like up untill closing time.
Save $10 per person when you book a fast ferry to any of the neighboring islands on StMartinbookings.com, simply by using the search box on the homepage.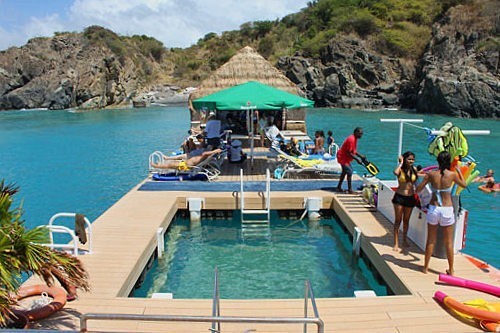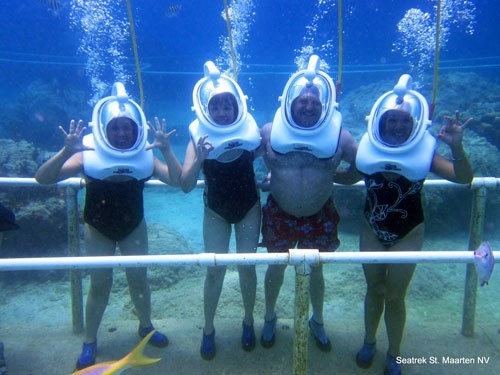 Sea Trek Sint Maarten
Sea Trek St. Maarten is an incredible Helmet diving experience under the turquoise waters of Little Bay. No training required and no swimming involved! Your hair stays dry and you can continue to wear any neccesary eyewear.
Take the guided tour of the ocean floor to see shipwrecks, historical canons from fort Amsterdam, various other relics and an abundant variety of fish, corals and sea life.
The maximum depth is 20ft and the walk takes around 20-30 minutes, accompanied at all times with well trained staff. There will be time to snorkel, swim or sunbathe in addition to the awesome dive!
When you book a fast ferry to any of the surrounding islands with StMartinbookings.com, enjoy a $10 discount per person on the Sea Trek experience. Simply download the discount voucher during booking and contact Sea Trek at least 48hrs in advance to make a booking. Email [email protected] or call +1721 520 2346.
Stand Up Paddle and Seabob Adventure St. Barth
Stand Up Paddleboarding (SUP) originated in Hawaii as a spin-off from traditional surfing. Currently one of the best trending watersports worldwide, paddlers can race on a variety of water bodies, riding waves and gliding over long distances along the coastline using tail winds.
SUP Adventure St. Barth are a young and dynamic operation based in Flamands, a picturesque and laid-back bay in northwest of Saint Barthélemy. They offer paddleboard rental, give lessons and can accommodate groups. Starting from 2015, they now also provide Seabob rental as well, allowing you to experience another exciting new sport.
The SeaBob is an electric water scooter that allows the user to leap through the waves or go underwater with speed, grace and agility: One of the most exciting and unique ways to explore the tropical waters around Saint Barthélemy.
When you book your fast ferry to St. Barts with StMartinbookings.com, you can enjoy discounts on the range of possibilities with SUP & Seabob Adventure. The Special Offer is as follows: 10% discount on Seabob rental, Hourly Paddleboard rental (normally €30) = €25, Hourly Lesson (normally €90) = €80. Simply download the SUP adventure voucher at the end of the booking process and use the contact details to pre-arrange your SUP or Seabob adventure!
Please note, the special offer discount is only valid for pre-bookings using the SUP voucher provided at completion of your online ferry ticket order with us.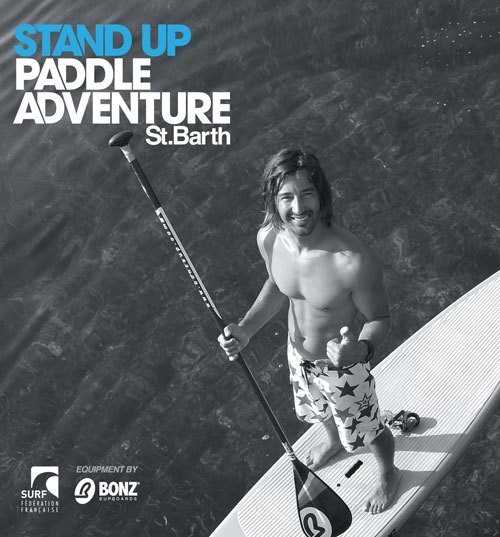 Cap Juluca Watersports Anguilla
Cap Juluca offer an extensive array of water sports with excellent equipment and proffessional guidance. Located at Maundays bay on Anguilla, with sights out over the Anguilla Channel and emerald isle of St. Martin beyond, the warm waters and pristine conditions make for a perfect spot to enjoy Waterskiing, Sailing, (Sea) Kayaking, Stand Up Paddle and Windsurfing. Cap Juluca also offer lessons in wind surfing and sailing and are attached to some of the nicest accommodation on the island.
Enjoy 10% off at Cap Juluca Water Sports when you book your fast boat to Anguilla with StMartinbookings.com. Simply select their voucher from the list of special offers at the end of your booking process, along with as many other discounts as you like.