Ferry from St. Maarten to St. Barths
StMartinbookings.com makes it easy for you to visit St Barths, with regular daily ferry crossings to and from Gustavia harbour. We offer departures from all over St Maarten/St Martin - Marigot, Oyster Pond and Simpson Bay. Just select your route, dates of travel and number of passenegers and click 'Search'. You'll be able to check live seat availability and prices from the best ferry operators in the region. Book and pay securly online and receive instant confirmation and e-tickets.
Boasting uncrowded beaches, world-class restaurants, designer boutiques and spectacular scenerey, it's no wonder Saint Barthélemy - or as it's more commonly known St Barths - is considered by many as the Jewel of the Caribbean. Blending casual chic French culture, unique Caribbean charm, and a few celebrities... this tropical paradise is only 30 minutes* away from the hustle and bustle of St Maarten/St Martin.
The small volcanic island of St Barths lies approximately 22 miles (35km) southeast of St Martin and is one of four northern Caribbean territories that makes up the French West Indies. Considered one of the Caribbean's most elite/expensive islands, St Barts has long been a favourite of the rich and famous, attracting many a celebrity to its shores.
This shallow reef-encircled island may be small but it packs a lot into its 8 sq. miles (21km²). Spend the morning on one of the 22 picture-perfect beaches, where sun-bathing and watersports are the order of the day, have lunch at a waterfront cafe and then browse the chic gingerbread-trimmed boutiques of the capital Gustavia - a perfect day trip to St Barths. For those staying on St Barth, watching the sun set over the mega-yacht filled harbour should be followed by an elegant evening meal at one of the many excellent restaurants. Be prepared to splurge a little, as budget options are few and far between. See our St Barts Travel Guide for an idea of the best things to enjoy on Saint Barthélemy.

St Barts Ferry
High-speed catamarans operate a number of ferry routes between the islands of St Maarten / St Martin and St Barth. StMartinbookings.com only features the leading fast ferry companies to ensure your comfort and safety.
Voyager ferry, departing from either Marigot in the north or Oyster Pond in the east of French St Martin, offer daily departures with a choice of air-conditioned Economy and Business cabins, sun decks and on-board refreshments. Their newest vessel - Voyager 3 Dreamliner - makes light work of the crossing from St Martin to St Barths, with journeys as fast as 30 minutes from Oyster Pond.
The "Edge" ferry to St Barths, with its distinctive wave-piercing design, is the perfect choice for anyone preferring to depart from the Simpson Bay area. With their own private dock, located in front of the Simpson Bay Resort - not far from Princess Juliana Airport on Dutch St Maarten - they travel 3 times a week from St Maarten to St Barths in just 45 minutes! Their friendly crew are waitng to welcome you on-board when you can enjoy comfortable seating and an open bar.
Both ferry companies operate to the highest standards of comfort and safety, ensuring that you arrive at your destination relaxed and refreshed, ready to explore what the islands have to offer.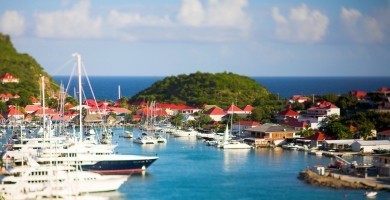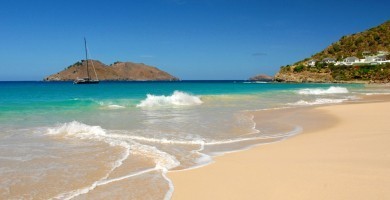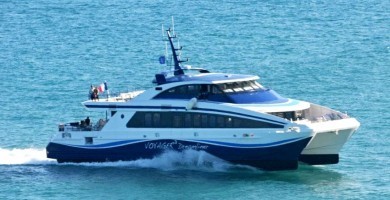 VOYAGER FERRY
ST MARTIN

- Marigot ST BARTHS - Gustavia
MONDAY
TUESDAY
WEDNESDAY
THURSDAY
FRIDAY
SATURDAY
SUNDAY
Dep.
Arr.
Dep.
Arr.
Dep.
Arr.
Dep.
Arr.
Dep.
Arr.
Dep.
Arr.
Dep.
Arr.
8:50am
4:00pm
6:55pm
9:50am
5:00pm
7:55pm
8:50am
4:00pm
6:55pm
9:50am
5:00pm
7:55pm
8:50am
4:00pm
6:55pm
9:50am
5:00pm
7:55pm
8:50am
4:00pm
6:55pm
9:50am
5:00pm
7:55pm
8:50am
4:00pm
6:55pm
9:50am
5:00pm
7:55pm
8:50am
4:00pm
6:55pm
9:50am
5:00pm
7:55pm
8:50am
4:00pm
6:55pm
9:50am
5:00pm
7:55pm



ST BARTHS

- Gustavia ST MARTIN - Marigot
Dep.
Arr.
Dep.
Arr.
Dep.
Arr.
Dep.
Arr.
Dep.
Arr.
Dep.
Arr.
Dep.
Arr.
7:25am
10:15am
5:30pm
8:25am
11:15am
6:30pm
7:25am
10:15am
5:30pm
8:25am
11:15am
6:30pm
7:25am
10:15am
5:30pm
8:25am
11:15am
6:30pm
7:25am
10:15am
5:30pm
8:25am
11:15am
6:30pm
7:25am
10:15am
5:30pm
8:25am
11:15am
6:30pm
7:25am
10:15am
5:30pm
8:25am
11:15am
6:30pm
7:25am
10:15am
5:30pm
8:25am
11:15am
6:30pm
Check-in begins 1 hour prior to departure at

the Voyager office

// Check-in closes 20 minutes before departure!
Terminals:

St Martin: Marigot - Ferry terminal
St Barts: Gustavia Ferry Dock - Gare Maritime
Luggage Allowance:

Carry on / Cabin
Checked baggage (2 pieces)


18kg
30kg


Max dimensions: 65cm X 40cm X 40cm
Max dimensions: 100cm X 50cm X 50cm
Please Note: Schedules are subject to change without prior notice
Marigot Ferry Terminal, St Martin
Cpt. Oliver's Marina, Oyster Pond, St Martin
Gustavia Ferry Dock, Gare Maritime, St Barths
THE EDGE FERRY
ST MAARTEN

- Simpson Bay

ST BARTHS - Gustavia

TUESDAY
THURSDAY
SATURDAY
Dep.
Arr.
Dep.
Arr.
Dep.
Arr.
9:00am
9:45am
9:00am
9:45am
9:00am
9:45am



ST BARTHS

- Gustavia

ST MAARTEN

- Simpson Bay
TUESDAY
THURSDAY
SATURDAY
Dep.
Arr.
Dep.
Arr.
Dep.
Arr.
4:00pm
4:45pm
4:00PM
4:45PM
4:00PM
4:45PM
Pelican Marina, Simpson Bay, St Maarten
Check-in times: St Maarten = 8:15am // St Barths = 3:45pm
Terminals:
St Maarten
St Barths

Simpson Bay Resort
Gustavia Ferry Dock
Luggage Allowance:
1 x (small) carry on (free of charge)
1 x checked bag (US$10 compact/medium bag // US$20 large/over-sized bag)
Please Note: Schedules are subject to change without prior notice
GREAT BAY EXPRESS
ST MAARTEN

- Philipsburg ST BARTHS - Gustavia
MONDAY
TUESDAY
WEDNESDAY
THURSDAY
FRIDAY
SATURDAY
SUNDAY
Dep.
Arr.
Dep.
Arr.
Dep.
Arr.
Dep.
Arr.
Dep.
Arr.
Dep.
Arr.
Dep.
Arr.
7:15am
9:45am
5:45pm
8:00am
10:30am
6:30pm
7:15am
9:45am
5:45pm
8:00am
10:30am
6:30pm
7:15am
9:45am
5:45pm
8:00am
10:30am
6:30pm
7:15am
9:45am
5:45pm
8:00am
10:30am
6:30pm
7:15am
9:45am
3:00pm
5:45pm
8:00am
10:30am
3:45pm
6:30pm
7:15am
9:30am
5:45pm
8:00am
10:15am
6:30pm
10:00am
-
5:45pm
10:45am
-
6:30pm



ST BARTHS

- Gustavia ST MAARTEN - Philipsburg
Dep.
Arr.
Dep.
Arr.
Dep.
Arr.
Dep.
Arr.
Dep.
Arr.
Dep.
Arr.
Dep.
Arr.
8:15am
10:45am
6:45pm
9:00am
11:30am
7:30pm
8:15am
10:45am
6:45pm
9:00am
11:30am
7:30pm
8:15am
10:45am
6:45pm
9:00am
11:30am
7:30pm
8:15am
10:45am
6:45pm
9:00am
11:30am
7:30pm
8:15am
10:45am
4:00pm
6:45pm
9:00am
11:30am
4:45pm
7:30pm
8:15am
10:30am
6:45pm
9:00am
11:15am
7:30pm
11:00am
-
6:45pm
11:45am
-
7:30pm
Check-in 1 hour prior to departure // Check-in closes

strictly

20 minutes before departure!
Terminals:

St Maarten: Bobby's Marina, Philipsburg
St Barts: Gustavia Ferry Dock - Gare Maritime
Luggage Allowance:

Carry on / Cabin (1 piece)
Checked baggage (2 pieces)
Passengers must be able to carry weight of own luggage

No size restrictions
No size restrictions
Please Note: Schedules are subject to change without prior notice
Bobby's Marina, Philipsburg, St Maarten
Gustavia Ferry Dock, Gare Maritime, St Barths