St. Maarten Diving
With a mix of wrecks, prolific coral reefs, lava tubes, canyons and tons of marine life, it's not difficult to summarise diving in St Martin / St Maarten…..simply fantastic! It may just be one island, split into two countries, but what makes diving here so special are the two bodies of water – Caribbean Sea and Atlantic Ocean – that surround the island and bring with them their own unique characteristics and species, including dolphins and humpback whales during the winter season. Diving here is year round, with water temperatures ranging between 78-83°F (25-28°) with visibility often over 100ft (30m) in calm conditions. Most of the 30+ dive sites are generally shallow, 40-60ft (12-18m), although for techies there are a few deep wall dives not to be missed.
Underwater topography is a mix of coral reefs, encrusted rock formations and of course a variety of artificial reefs created by the numerous wrecks dotted around the island. All of these play home to an assortment of corals, sponges and hydroids. Divers and snorkellers to the area are rewarded with an abundant variety of fish life that includes surgeons, sergeant majors, blue tangs and trunkfish as well as regular siting of turtles, eagle rays and reef sharks. With several dive centres operating on both sides of the island, our selected diving partners are regarded by many as the best in the business. Octopus Diving, based in French Grand Case, is ideally situated for access to St Martin's more northern dive spots and wrecks, while down in the south Ocean Explorers services all the major hotels and resorts in Dutch St Maarten and is famous for its Shark Dives. For more about each of our selected diving partners, see below.
Octopus Diving - St Martin
Providing VIP style diving is what this family-run dive centre is all about, and along with their commitment to excellent service, it's no surprise they're ranked #1 activity in St Martin on TripAdvisor.
From their base in beautiful Grand Case, in the northeast of St Martin, Octopus Diving offers a wide variety of diving and snorkelling excursions and is the only dive centre in St Martin that offers two 2-tank dive trips per day! They also offer a full range of PADI diver training courses as well as technical diving training and experiences.
Click here to see Octopus Diving special offers and discounts, exclusively offered when booking your fast boat or ferry service with StMartinbookings.com!
Diving St Martin is fantastic, and no one is better equipped to help you explore the treasure-trove of biodiversity that can be found below the surface of St Martin's calm, blue sea. Octopus Diving, being situated on the French side of the island, has easy access to some of the island's most prolific reefs – a result of fewer dive centres and more stringent regulations governing the marine environment.
For certified divers they organise two daily 2-tank dives leaving at 8am and 1pm, so if you're not an early riser you can still get to dive in the afternoon. The morning trip gets back at 11:30am, great if you want to have lunch at one of Grand Case's famous eateries or spend the afternoon lounging on the beach. The afternoon trip returns around 4:30pm just in time for some early sundowners! Access to the dive sites is aboard one of Octopus Diving's three amazing dive boats – Arvor, Octopussy and Kraken – which not only provide a stable platform and safe, comfortable rides to the dives sites located along St Martin's northern and eastern coastline, but also to dive sites on the Dutch side as well as around the tiny island of Tintamarre and the Anguilla Channel.
For non-divers or anyone that wants to try diving for the first time, Octopus Diving offer a Discover Scuba Diving course that, upon completion, could have you diving with your certified family or friends! Next to that they offer a full program of PADI certification and specialty courses as well as a wide range of technical diving courses and excursions. Their experienced instructors will guide you through the course materials and ensure you master the necessary skills to enjoy a lifetime of safe diving pleasure.
Whether you're an experienced diver or a complete novice, you'll enjoy the VIP style service that Octopus Diving is renowned for – they'll carry your equipment, set it up for you (if you wish) and then carry it back to the dive shop at the end of the day – all you have to do is show up!
Aside from their diving activities, Octopus Diving offers half-day and full-day snorkelling trips to some of St Martin's less accessible reefs and islands. They're also happy to arrange private diving or snorkelling charters, tailor-made to suit your needs. Their shop carries a range of diving and snorkelling equipment for purchase and if you don't feel like taking your own equipment with you on vacation, their stock of modern, well-maintained dive gear is available for rent.
At Octopus Diving their goal is to maintain a family-friendly dive operation, catering to small groups of divers ensuring a fun, safe and memorable dive experience.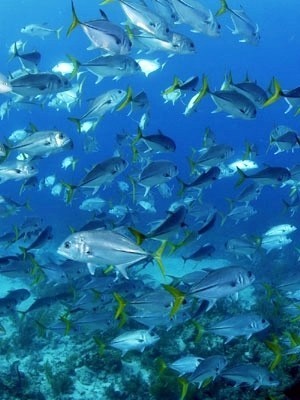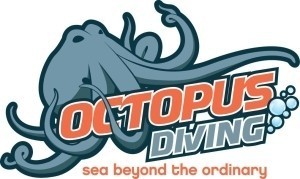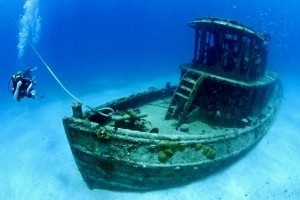 Ocean Explorers - Sint Maarten
Located right on the beach by Simpson Bay in Dutch St Maarten, Ocean Explorers is the longest established dive centre on the island. This small and friendly dive operation, owned and operated by Lu and Jef – together having over 40 years' dive industry experience between them, is focused on personal service and offers flexible dive site selection and schedules as part of their commitment to ensuring customer satisfaction.
With more than 17 years' of recognition by PADI for Outstanding Services, and a reputation as one of the best dive shops in St Maarten, Ocean Explorers runs daily dive trips to St Maarten's best dive spots as well as offering a wide range of PADI courses and a unique Shark Dive experience!
For all StMartinbookings.com customers, take advantage of some exclusive special offers and discounts with Ocean Explorers. To qualify, simply book a ferry ticket or fast boat service with us!
Dive Sites
Ocean Explorers has spent the last 30 years exploring the reefs and wrecks around St Maarten to bring you the very best diving in St Maarten. With 20+ dive sites to choose from, some exclusively created by Ocean Explorers, there's something for divers of all abilities and experience. From shallow reefs bejewelled with colourful corals and reef fish, to deeper reefs and walls where schools of snapper and jacks can be seen along with batfish, turtles and sharks. There are also a good number of diveable shipwrecks; home to all manner of marine life. Ocean Explorers will do their utmost to show you the diversity of St Maarten diving, paying careful attention to diver safety and weather conditions when planning their dives.
Shark Dive
With global shark populations diminishing, Ocean Explorers offers a unique experience to certified divers in an effort to raise awareness and dispel common misconceptions about these incredible creatures. Under the close supervision of Jef – a professional shark feeder and instructor with more than 10 years' experience in St Maarten – you'll have a close-up view of how he feeds and interacts with the resident Caribbean Reef Sharks. The sharks, ranging in length from 3-9 feet (1-3m), are free to come and go as they please, so there's no way of knowing how many you'll see. The feeding is conducted responsibly - small amounts of fish only once or twice a week - to ensure the sharks' natural hunting behaviour is not disrupted. Sharks are a pivotal part of the marine ecosystem and their dwindling numbers could have serious repercussions for the health of our oceans' reefs.
Dive Courses
As a fully licenced PADI Dive Centre, Ocean Explorers is able to offer a comprehensive range of introductory and continuing diving education courses. If you've never dived before and want to experience what it's like to breathe underwater amongst incredible marine life then the Discover Scuba Diving experience is for you. Or perhaps you're looking to earn your PADI Open Water certification, or improve your diving skills and knowledge with a Specialty Course... whatever program you choose you can be sure that all lessons are personally supervised with safety the number one priority.
Dive Boats
Small groups and uncrowded dives are what Ocean Explorers is all about. Their two well-equipped dive boats – Ocean Explorer and Undersea Adventure - are ideally sized to safely and comfortably transport divers quickly and smoothly to/from the dive sites. Their powerful twin Mercury engines ensure journey times are kept to a minimum (usually less than 20 mins.) and with an 8-diver limit per boat there's never a crowd.
Explorers Log
Specialised in Underwater Portrait Photography, Ocean Explorers offers divers the ultimate souvenir of their experiences underwater. Their Explorers Log is a daily online album of all the photos and videos captured during the day's dives. You can browse, download and order prints as an everlasting memory of your St Maarten diving adventure.