Saba Hotels
Are you looking for somewhere to stay on Saba? StMartinbookings.com features a selection of the best accommodation on the island, with live room availability, instantly confirmed bookings and, in affiliation with Booking.com, all rates come with a "Best Price Guarantee". Saba accommodation is very limited but to help you choose we've selected the best Luxury, Mid-range and Budget accommodation Saba has to offer. View other locations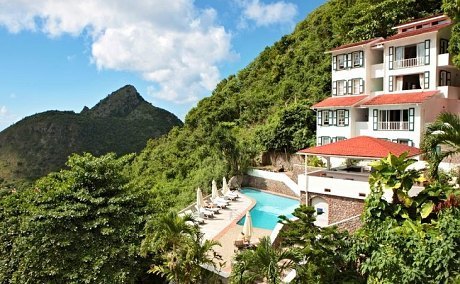 Considered Saba's most luxurious resort, the up-scale, yet elegant Queen's Garden Resort is an oasis of serenity and refinement, set amidst lush tropical forest with magnificent vistas of the mountains, the capital of Saba - The Bottom - and sapphire-blue sea beyond.
The resort features 12 spacious suites, elegantly decorated and fully appointed; select suites offer a private jacuzzi with stunning ocean views. Also featuring the island's only spa, a restaurant, lounge bar, fitness centre and Saba's largest outdoor pool.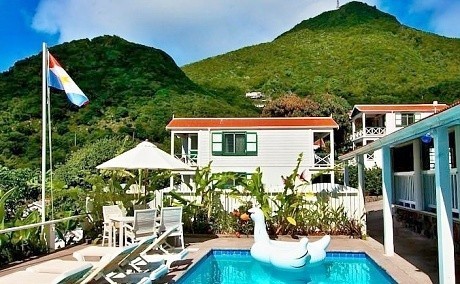 Perfectly located in idyllic village of Windwardside, Juliana's Hotel offers a range of accommodation to suit all budgets. Nestled on the slopes of a lush hillside, the hotel features a welk-kept outdoor pool, hot-tub and boasts tropical gardens as well as an excellent restaurant and bar - Tropics Café.
With mountain and ocean views each of their Caribbean rooms, cottages or apartments come with a private bathroon, TV, fridge and coffee machine; some have fully equipped kitchens. The island's best shops and restaurants are only a minute away.


Blending harmoniously with its tropical surroundings, El Momo offers 8 simple but cosy cottages; ideal for the more adventurous traveller on a budget. The airy one-room wooden cottages, decorated with wooden furniture and original artwork, feature a private terrace with stunning views.
Choose from either shared or private bathroom facilities; superior cottages come with kitchenette. From its hilltop position, just a 5 minute walk from Windwardside, the property boasts an outdoor pool, on-site restaurant and panoramic ocean views.
Saba, an eco-tourism paradise, is slowly becoming more than just a day-trippers destination. But with limited accommodation, arranging your stay on Saba does require some planning. To assist you we've made a selection of the best places to stay on Saba. Choose from luxurious hillside resorts to family-run hotels and guesthouses. Booking your Saba accommodation is quick and easy with StMartinbookings.com!