Due to damage sustained during last year's hurricanes, the DAWN II Ferry is undergoing repairs
and all servcies are suspended until further notice
Dawn II Saba Ferry
Based out of Fort Bay, Saba, the Dawn II is the ideal way to get from the heart of Philipsburg, St Maarten to Fort Bay on Saba – the 'Unspoiled Queen' of the Caribbean. Their 65ft vessel makes its way between the islands on Tuesdays, Thursdays and Saturdays only, so advance reservations are highly recommended.
Whether you're planning a day trip to Saba or staying over for a longer period, StMartinbookings.com makes booking your ferry to Saba quick and easy. You can check live seat availability, book and pay for your Dawn II reservation online, as well as receive immediate confirmation and e-tickets. To start, simply select your route, dates of travel and number of passengers and click 'Search'.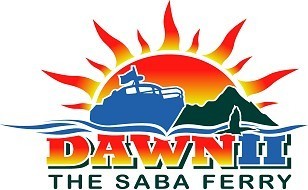 The Dawn II travels three times a week, come rain or shine, between Fort Bay on Saba and Dock Maarten Marina in the heart of Philipsburg (St Maarten). Operated by Saba C-Transport, the Dawn II is a good option for those who prefer not to fly and is ideal for anyone with a large amount of luggage. It is also the preferred means of transport for many of Saba's visiting scuba diving enthusiasts, who make good use of the generous luggage allowance for transporting all their equipment. Dawn II also offers special same return specials, perfect for a shopping trip to St Maarten.
The green M/V Dawn II – more affectionately known as the 'Heineken Boat' amongst locals, is licensed by the Kingdom of the Netherlands and can carry up to 50 passengers and their belongings. The fully air-conditioned passenger cabin features comfortably padded seats, with additional outside seating available for anyone wishing to catch the cool Caribbean breeze. The vessel is also used to carry freight and is even equipped with a 400 cubic foot freezer.
On St Maarten/Martin, the Dawn II leaves from Dock Maarten Marina which is located in Philipsburg right next to the Chesterfields Restaurant – a great spot for breakfast and fresh seafood. Just a stone's throw away from the marina is the famous Front Street shopping area where you'll find everything from souvenirs and jewellery to clothing and of course the duty free liquor stores. Next to the marina you'll also find a nice sandy beach area and boardwalk, lined with a variety of bars and eateries.
Saba departures are from the island's only commercial harbour at Fort Bay Ferry Terminal, on the south-western coast, just a short 10-15 minute taxi ride away from Windward Side.
For more on how to book a Saba ferry, take a look at our FAQ's
Features:
3 weekly departures - come rain or shine!
Journey time only 90 minutes
Maximum capacity – 50 passengers for comfort and safety
Generous luggage allowance
Fully air-conditioned passenger cabin with comfortably padded seats
Outside seating available
FREE 'Heineken' beer on board
Marine Grade aluminium construction
Trained and professional crews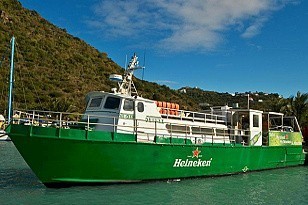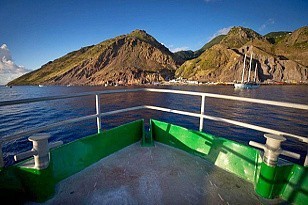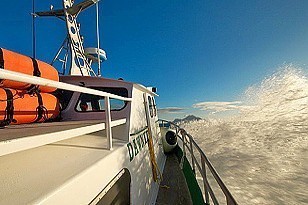 Schedule & Route Map:
DAWN II FERRY
Normal schedule - Effective date to be confirmed
SABA

- Fort Bay

ST MAARTEN

- Philipsburg
TUESDAY
THURSDAY
SATURDAY
Dep.
Arr.
Dep.
Arr.
Dep.
Arr.
7:00am
8:30am
7:00am
8:30am
7:00am
8:30am



ST MAARTEN

- Philipsburg

SABA

- Fort Bay
TUESDAY
THURSDAY
SATURDAY
Dep.
Arr.
Dep.
Arr.
Dep.
Arr.
4:30pm
6:00pm
4:30pm
6:00pm
4:30pm
6:00pm
Dock Maarten Marina, Philipsburg, St Maarten
Prices:
Departure Taxes not included – to be paid locally upon check-in
Round Trip*

Adult
= US$100

(12+ yrs)

Child
= US$55

(2-11 yrs)

Infant
= Free

(<2 yrs)
Same Day Return

Adult
= US$78

(12+ yrs)

Child
= US$45

(2-11 yrs)

Infant
= Free

(<2 yrs)
One way - St Maarten to Saba

Adult
= US$58

(12+ yrs)

Child
= US$35

(2-11 yrs)

Infant
= Free

(<2 yrs)
One way - Saba to St Maarten

Adult
= US$55

(12+ yrs)

Child
= US$35

(2-11 yrs)

Infant
= Free

(<2 yrs)

* Round Trip (return travel within 30 days of arrival date)
Departure Taxes:

Departure Taxes must be paid at check-in before departure from either Philipsburg or Fort Bay - CASH ONLY!
| | |
| --- | --- |
| Return Trip | = US$20 |
| One way departing St Maarten | = US$10 |
| One way departing Saba | = US$10 |
Additional Infomation:

IMPORTANT: A valid passport is required for travel to/from Saba
Check-in procedure
Passengers must arrive at the dock (Fort Bay, Saba or Dock Maarten, Philipsburg) at least 45 minutes before the scheduled departure time in order to check in. Check-in strictly ends 30 minutes prior to departure times for immigration purposes. Simply take your StMartinbookings e-ticket to the Dawn II counter to check you and your luggage in.
Note: Passengers departing from St Maarten can check-in as early as 10:00am and drop-off their luggage.
Luggage allowance
Ticket prices include one carry-on and two pieces of luggage per passenger. Additional luggage allowance can be pre-purchased at US$10 per piece - contact us for more information and payment options. Any excess luggage checked-in at the dock will be subject to additional charges.
Cancellations
100% refund if cancelled more than 2 weeks before departure
50% refund if cancelled less than 2 weeks but more than 48 hours before departure
No refund if cancelled less than 48 hours before departure or for No-shows
Date changes possible at any time, subject always to availability
Note: For passenger comfort and safety, Dawn II may be forced to cancel their services at short notice due to changing weather and sea conditions. Although this is a very rare occurrence, passengers must be aware that neither StMartinbookings.com nor Saba C-Transport will be liable for cancellation fees or any other additional expenses incurred due to a cancellation of service. We therefore strongly recommend that all passengers obtain travel insurance for their own protection.