Saba to St Maarten
Dawn II, operated by Saba C-Transport, sails three times week between Saba and St Maarten. The iconic mono-hull vessel - M/V Dawn II - makes the crossing from Fort Bay, Saba to the Dock Maarten Marina in Philipsburg, St Maarten in just 90 minutes, come rain or shine! To check departures times, seat availability, make bookings and instantly receive e-ticket confirmation for your ferry journey, just use the search box to the left.
M/V Dawn II, also known as the "Heineken Boat" for obvious reasons, carries up to 50 passengers with plenty of space for luggage; making it the perfect choice for anyone with a lot of baggage, especially those with diving equipment. Dawn II ferry departs Saba at 7:00am on Tuesday, Thursday and Saturday and returns from Philipsburg at 4:30pm the same days, ideal for a day trip to St Maarten.
Passengers should check-in at least 45 minutes before departure to exchange your StMartinbookings.com e-ticket for a Boarding Pass. When departing St Maarten, passengers can check-in as early as 10:00am and drop-off their luggage. Check-in strictly ends 30 minutes prior to departure times for immigration purposes.

NOTE: Departure Taxes/Port Fees are NOT INCLUDED in Dawn II ferry ticket prices and must be paid at check-in before departure from either Philipsburg or Fort Bay - US$ 10 each way - CASH ONLY!
Dawn II Schedule between Saba and St Maarten
Daily Departures

ST MAARTEN
St Maarten-Anguilla Dock
ANGUILLA
Blowing Point Ferry Terminal
-
8:00am
9:30am
9:15am
11:30am
10:30am
12:45pm
11:30am
1:45pm
12:30pm
2:45pm
1:30pm
3:45pm
3:00pm
4:30pm
4:30pm
5:30pm
-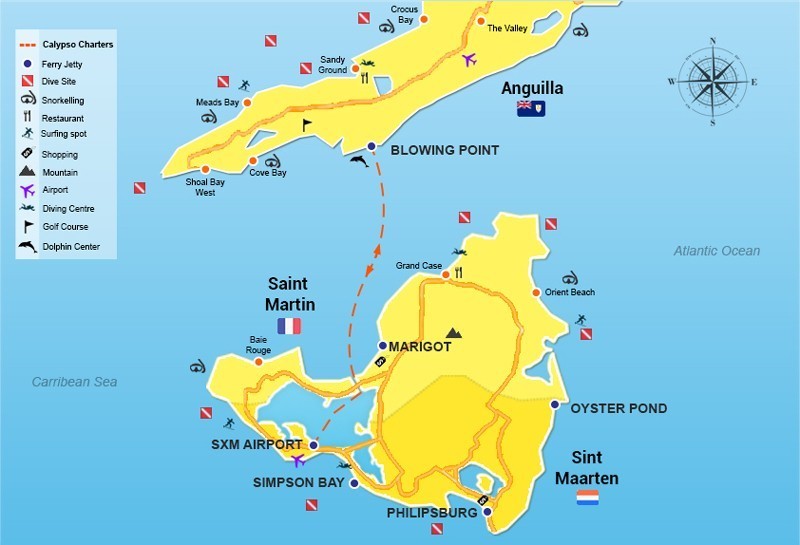 The 65ft Dawn II has a fully air-conditioned main cabin with comfortable padded seats, as well as some outside seating for those wanting to catch the cool Caribbean breeze. A passenger restroom is also available on board.

All passengers are allowed to bring 1 piece of accompanied luggage, as well as 1 carry-on bag. which should be of a reasonable and acceptable size. Additional luggage can be paid for at check-in. Prices determined according to size and weight of luggage.

Note: For passenger comfort and safety, Dawn II may be forced to cancel their services at short notice due to changing weather and sea conditions. Although this is a very rare occurrence, passengers must be aware that neither StMartinbookings.com nor Saba C-Transport will be liable for cancellation fees or any other additional expenses incurred due to a cancellation of service. We therefore strongly recommend that all passengers obtain travel insurance for their own protection.

* SUSOM Students may be eligible for discounted rates - please contact the ferry operator directly
SPECIFICATIONS
Craft Name:
M/V DAWN II
Type:
Aluminium Mono-hull
Weight:
53 RT gross
Length Overall:
19.80 m
Year:
2005
Beam:
4.90 m
Draft max
1.40 m
Passengers:
50
Fuel:
1,500 USG
Fresh Water:
120 USG
Main Engines:
John Deere PowerTech 6125AFM75
Installed Power:
525 hp
Gearboxes:
MG 514 - 2:1 ratio
Propulsion:
Diesel
Service Speed:
18 knots
SAFETY EQUIPMENT
Life Rafts:
2
Life Jackets:
50 Adult + 2 Child (all with Cyalume lights)
EPIRB:
Yes
Life Ring Buoy + Light:
2 units for man overboard
Radar:
Furno 1832
GPS:
Furno
Fire Extinguisher:
Yes
Communications:
VHF - West Marine 500B + Horizon HX8505

For questions on how to book your Dawn II ferry check out the most common FAQ. Online bookings can be made up to 24 hours before departure. For changes or cancellations, please see our Terms and Conditions.