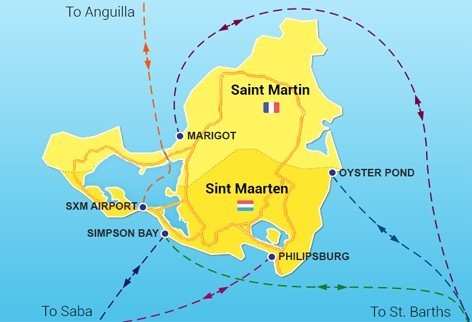 St Martin / St Maarten Day Trips
Looking to make a day trip from St Maarten to one of the nearby islands?

StMartinbookings makes it easy to book your island day trip to Anguilla, St Barths or Saba. Use the search box to check live ferry and fast boat availability and start planning an exciting day to one of St Martin's nearby destinations. Simply select your route, travel date and number of passengers and you'll have instant access to departure times and discounted prices to your day trip island of choice. Book and pay securely online using your credit card or PayPal account and receive immediate e-ticket confirmation.
While the island of St Martin/St Maarten offers a host of fun activities and options to relax, visitors to the region shouldn't miss out on an opportunity to discover the incredible diversity of its neighbouring islands. From laid-back Anguilla's pristine beaches and dolphin encounters, to the designer boutiques and mega-yachts of cosmopolitan St Barths, and of course the magical eco-island of Saba with its mountain hikes and world-class scuba diving. To help you decide how best to spend your day, we've put together some sample day trip itineraries. If you're looking for rest and relaxation have a look at our Leisure itineraries. For those preferring something more energetic, our Active itineraries should keep you busy. Our St Maarten day trips itineraries are just suggestions, and once you've booked your ferry with us you're free to plan your day any way you wish. But don't forget to take advantage of our special offers and discounts, which can save you $$$ on a variety of activities and services, making a day trip to Anguilla, St Barts or Saba even more affordable. In fact, if you've got the time, why not visit a couple of islands and experience the difference each one has to offer.
The powdery, white sands of Anguilla's beaches are considered amongst the world's best, but not everyone that visits this part of the Caribbean can afford the budget range of Anguilla's luxury resorts. But that's not to say that Anguilla is only for the jet-set and a day trip to Anguilla from St Martin is an excellent way of experiencing what this Caribbean island getaway has to offer.
Only a short fast boat ride away from the Simpson Bay area/St Maarten Airport, you'll have time to explore the island by taxi or rental car, have lunch at one of the magnificent beachside restaurants, scuba dive or snorkel its fringing reefs or maybe play a round of championship golf. So whether you want to dive a wreck, swim with dolphins or just laze away on a pristine beach, a day in Anguilla shouldn't be missed.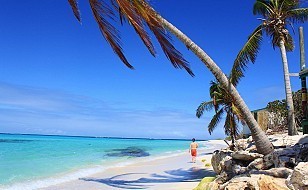 Sample itinerary - Leisure
Catch the Funtime Charters shuttle transfer from St Maarten-Anguilla Dock to Blowing Point Ferry Terminal – don't forget your passport!
Choose a taxi tour of the island or head straight to one of Anguilla's picture-perfect beaches
Have lunch at The Bayside Grill right on the beach at Crocus Bay
Enjoy a massage or beauty treatment in the Venus Spa at the CuisinArt Resort
Spend the rest of the afternoon relaxing on the beach at Shoal Bay East
Take the late afternoon shuttle back to St Maarten
Sample itinerary - Active
Take a Calypso Charters morning transfer from St Maarten-Anguilla Dock to Blowing Point Ferry Terminal – Anguilla departure taxes apply (cash only)
Head to Shoal Bay Scuba or Vigilant Divers for a morning of scuba diving on one of Anguilla's many reefs or wrecks
Enjoy fresh seafood for lunch at one of Sandy Ground's beachside eateries
Take in a round of golf at CuisinArt's championship golf course OR head to Dolphin Discovery for one of their Dolphin Swim programs
Hop on the last shuttle back to St Maarten
Often dubbed the 'French Riviera of the Caribbean', the hilly island of St Barths (also referred to as St. Barthélemy or St. Barts) is well known for being one of the region's most exclusive and most expensive islands. Catering predominantly to the rich and famous, its 21 white-sand beaches, designer boutiques and mega-yacht filled harbour are more than a reason to plan a day trip to St Barths.
Regular high-speed ferries make the crossing from St Martin to St Barts in just 30 minutes, so within no time you could be touring the island by rental car, relaxing on an uncrowded beach, lunching at a waterside café or browsing the fashionable stores of Gustavia and St Jean. For a more active day trip you could dive or snorkel in the crystal-clear waters, try your hand at SUP or maybe even swim like a dolphin with SeaBob. So for a taste of the high-life why not book a St Barts day trip today. Just remember to bring your wallet!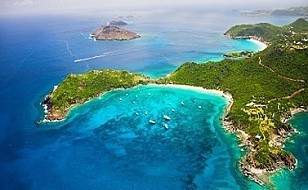 Sample itinerary - Leisure
Take a morning Voyager high-speed ferry from Marigot or Oyster Pond
Hire a car and tour the island, taking in the views of the many bays and inlets along the way
Relax on Flamands Beach or one of the many other beautiful beaches
Grab a bite at Kiki-e Mo or enjoy a lunchtime cocktail at the Sand Bar
Spend the afternoon exploring Gustavia, with its gingerbread-trimmed shops and impressive yacht harbour
Catch the ferry back to St Martin and maybe spot some dolphins along the way!
Sample itinerary - Active
Catch "The Edge" fast-ferry direct from Simpson Bay, St Maarten to St Barths
Go scuba diving with La Bulle or grab some snorkelling gear and experience St Barts' colourful reefs and marine life
Jump in a taxi and head over to Nikki Beach or Do Brazil for a gourmet lunch
Check out some water sports: surf the waves, go SUP, or try out SeaBob's underwater scooters
Return to Gustavia in time for the ferry back to St Maarten
For scuba divers, nature lovers or anyone looking to escape the hustle and bustle of St Maarten, the tiny volcanic island of Saba is an eco-tourism paradise. Lush tropical forests cling to the impossibly steep slopes of Mt Scenery while underwater a kaleidoscope of colourful marine life glide effortlessly through the clear, blue waters of Saba's Marine Reserve. Untouched by mass tourism it's easy to see why Saba is affectionately known as the 'Unspoilt Queen of the Caribbean'.
Take the ferry to Saba in the morning and spend the day exploring the island's beauty, both above and below the surface. Well marked hiking trails traverse the island, passing through a diverse range of flora and fauna while affording spectacular costal views along the way. Saba's underwater realm is a scuba diving paradise, with some dive sites rated amongst the Top 10 in the World! A day trip to Saba is a must for all that enjoy what nature has to offer.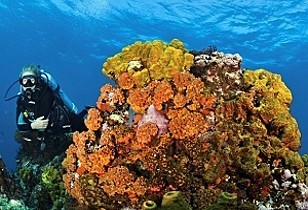 Sample itinerary - Leisure
Hop aboard the "Dawn II" ferry from Philipsburg, St Maarten to Saba island
Take a taxi tour of the island along "The Road" passing through quaint villages and breath-taking scenery
Stop off in Windwardside and enjoy a tasty lunch on the terrace of Scout's Place or Juliana's
Browse the art gallery and local artisan workshops and pick-up a souvenir of Saban Lace or a bottle of Saba Spice rum
Return to the harbour for the ferry back to St Maarten
Sample itinerary - Active
Take "The Edge" ferry to Saba from Simpson Bay, St Maarten – just a 90 minute journey
Go for a dive with Sea Saba and explore incredible deep water pinnacles, pristine reefs and an abundance of tropical marine life
Have lunch at the Deep End Bar and Grill right at the harbour
Take a taxi up to the Mt Scenery Trail and climb the 1,064 steps to the summit – what a view!
Head down to Fort Bay for your return ferry to St Maarten