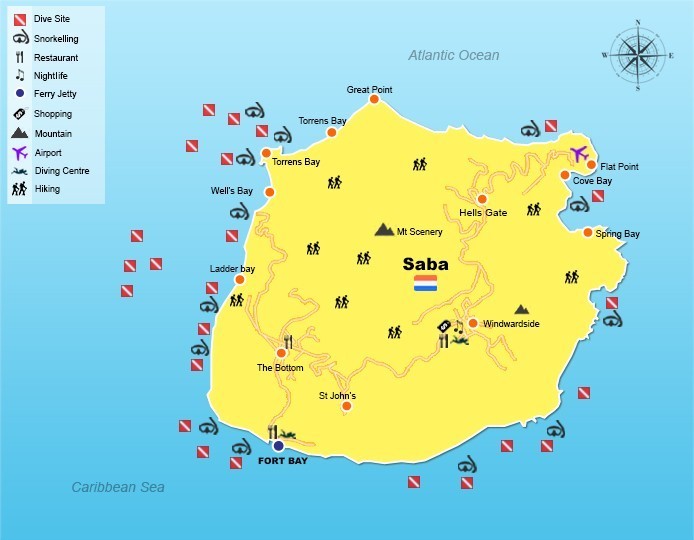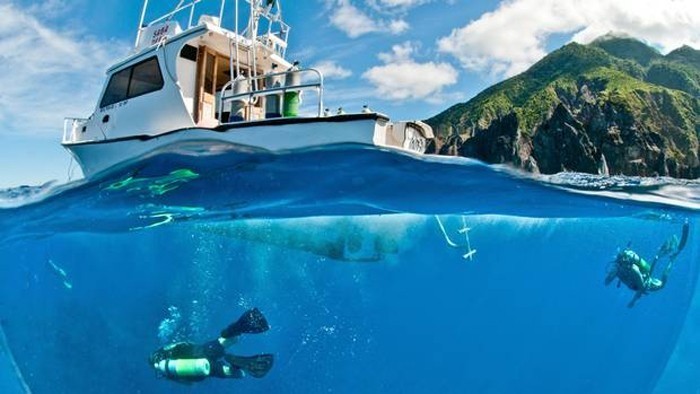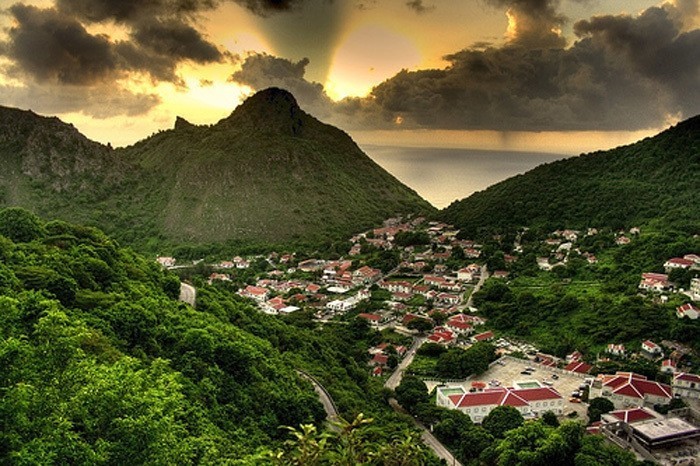 Saba
Appearing as a tiny green dot in the Caribbean Sea, the island of Saba can easily be missed on a map, but it's exactly this obscurity which has kept Saba out of the mass-tourism limelight and allowed it to develop as one of the Caribbean's hidden gems. Rising more than 800m straight up out of the deep blue sea, the densely forested flanks of this cone-shaped volcanic island are home to an incredible variety of flora and fauna, while the protected underwater seascape plays host to some of the worlds' best scuba diving.
Saba lies about 28 miles (45km) southwest of its international hub St Maarten, and at only 5 sq. miles (13km²) is the smallest of the three islands that make up the Caribbean Netherlands. With a population of less than 2,000 inhabitants, the island was first colonized in the 17th Century - with fishing, rum and sugar being its main exports - and after changing hands several times fell under Dutch rule in 1816.
Today, Saba is a true eco-tourism paradise, offering visitors a unique island experience, with hiking and diving being the main focus of activities. With a marine park surrounding the island, Saba is a mecca for divers of all abilities. Crystal-clear waters, brightly coloured coral reefs and an abundance of marine life are what draw divers to Saba's underwater realm.
Above the surface, the cloud-veiled peak of Mt Scenery beckons hikers and walkers to explore the heart of the island. A collection of 15 different trails wind their way across the island, taking visitors through lush tropical vegetation, cool forests and encounters with rare and exotic species.
Other Saba highlights include the steps from Ladder Bay, the airport and "The Road" – the hand-built causeway that carves its way across the island connecting the four main villages of Windwardside, The Bottom, Hell's Gate and St. Johns – which affords some spectacular coastal views and amazing panoramas. Spend some time meandering through the villages, with their authentic gingerbread houses and immaculate gardens.
You can pick up a souvenir of locally made rum - Saba Spice - or perhaps some Saban Lace from one of the local artisan studios. Windwardside is the main hub, with the greatest concentration of accommodation, restaurants and bars. Here you'll also find two of Saba's three dive centres with the other located down at Fort Bay – the island's only harbour and arrival port for the ferry from St Maarten. Getting around the island is made possible by a network of local mini-bus taxis, with fixed rates to keep things simple; although car rental is also possible.
Saba is a unique paradise, exuding an authentic atmosphere of the how the Caribbean used to be. And, while there may not be miles of white-sandy beaches, its stunning nature – both above and below the water – along with friendly inhabitants and a relaxed pace of life make it an ideal vacation retreat. No wonder the Sabans call their island 'The Unspoiled Queen'.
BEST PLACES TO VISIT ON SABA

Windwardside
Nestled between Hells Gate and St Johns, Windwardside – aptly named for being on the windward side of the island – is Saba's second largest village and main tourist hub. At 1,700 feet (500m) above sea-level it's home to the Saba Museum, as well as the Saba Tourist Board, and is the starting point for one of the most popular hiking routes – the Mount Scenery Trail.
It's also where you'll find the best selection of accommodation on the island, with almost half the island's hotels, guest houses and cottage rentals located in and around the village. With a great variety of restaurants and cafes, Windwardside is popular with tourists and locals alike. You'll also find a supermarket, Saba's only art gallery and a collection of gift shops for souvenir hunters. And with themed buffet nights, occasional live music and several bars it's also the place to be after dark.
The Bottom
As Saba's capital and largest settlement, The Bottom is also the cultural, political and business centre of this tiny Caribbean island. Along with other medical facilities it's also where the Saba School of Medicine is situated; whose medical students and faculty staff make up a significant percentage of the population! It's also home to annual events such as Saba Day (December) and the highly anticipated Saba Carnival (summer). There are a few small restaurants and bars as well as a grocery store. Positioned in a valley surrounded by hills the town derived its name from the Old Dutch for 'The Bowl' (De Botte), as opposed to its physical location towards the bottom of the island as commonly believed.
The Ladder
This set of 900 rugged steps once formed the only connection between the sea and Saba's interior. With a steep and jagged coastline the only place to come ashore was on the small beach of Ladder Bay. From here an almost vertical staircase was hewn out of the solid rock. Everything and everyone that came to the island would have gone via this narrow stairway. Food, building materials and household goods were lugged by hand from small boats all the way up by the Saban men.
On the way from The Bottom to Well's Bay you'll come across the old customs house which sits perched against the steep cliff atop The Ladder. From here you'll have a fantastic view of Diamond Rock and a chance to climb the steps yourself.
Tide Pools at Flatpoint
For the closest thing that Saba has to a beach, a visit to these saltwater pools is a unique experience. Next to the airport – with the world's shortest commercial runway – is a path that leads down to a series of natural enclosures which, when filled with seawater, form crystal-clear tidal pools. A natural swimming pool has been created by placing rocks in the cove and, with artificial sand brought in from St Maarten, makes an ideal spot to cool down and relax when not hiking or diving. There's a small playground for children too. Water-shoes recommended.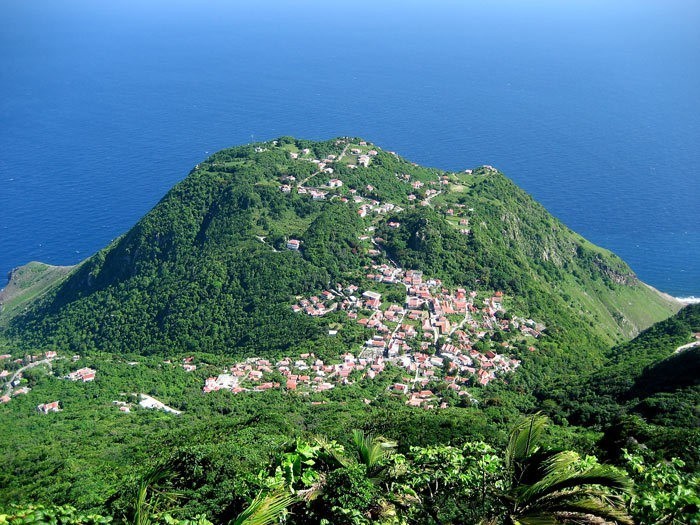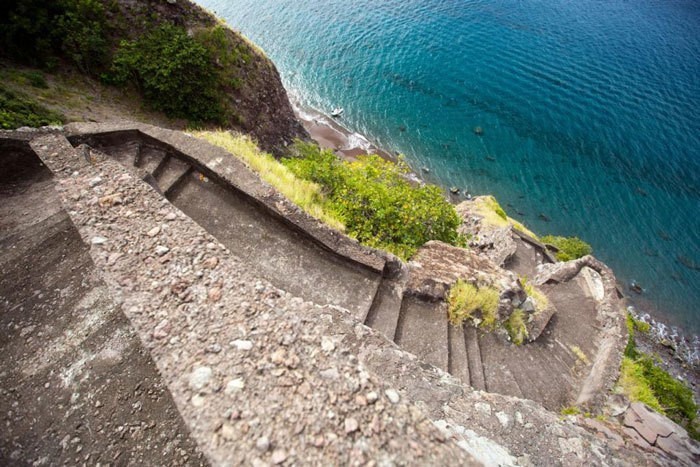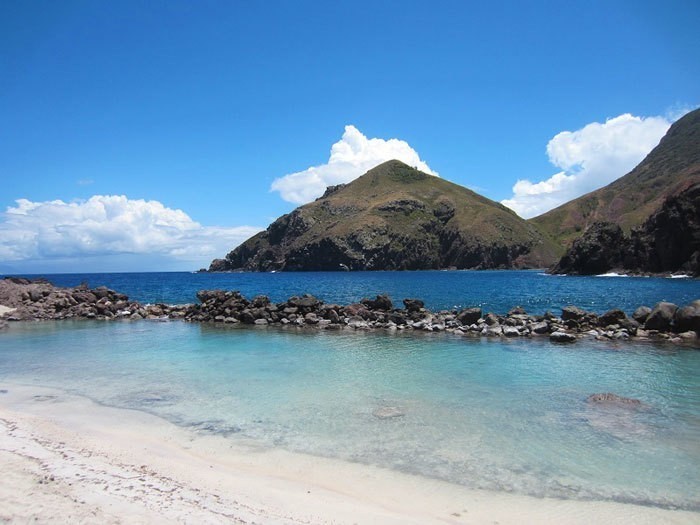 BEST THINGS TO DO ON SABA

Dive, Dive, Dive
One of the primary reasons to visit Saba is for its internationally renowned underwater world. Often featuring in the World's Top 10 Diving Destinations, Saba is a scuba diving nirvana. With its entire coastline falling under the protection of the Saba Marine Park, divers are duly rewarded with crystal-clear waters, pristine reefs and an abundance of marine life, from brightly coloured sponges and corals to schools of tropical fish, sharks, turtles and much more.

Saba's volcanic past has created an amazing underwater landscape, from shallow patch reefs to close-to-shore walls and lava tunnels. One of the main underwater attractions are the rare deep-water pinnacles that rise straight-up from unfathomable depths and form a labyrinth of heavily encrusted seamounts, which are not only visually spectacular, but also attract unusual pelagics and other marine creatures. With around 30 dive sites to choose from, Saba offers something for all levels of diving ability. The island's three professional dive centres operate daily dive excursions as well as snorkelling trips, and with water temperatures rarely dropping below 77°F (26°C) diving is a year-round activity.
Take a hike!
Saba's natural beauty is not just limited to its underwater realm. With lush tropical forests, breathtaking panoramas and a rich variety of unique flora and fauna, hiking is the perfect way to explore this eco-tourism paradise. A network 15 hiking trails has been set-out by the Saba Conservation Foundation allowing visitors to experience the diverse eco-systems that exist in harmony on this tiny island.

One of the most popular routes is the Mount Scenery Trail which leads from Windwardside to the top of The Netherlands' highest peak at 2,877ft (877m). Before heading off, pop into The Trail Shop – at the foot of the trail - for useful information and maps.
The 90 minute hike (each way) will lead you from woodlands, through rainforest and eventually up to the mist-veiled summit. As you climb the 1,064 steps you'll pass orchids, palm trees, banana plants and a myriad of other unique trees and plants, as well as rare species of birds and frogs. Pack a sweater as it's often much cooler at the top.
Hit "The Road"
Not many places in the world list a road as an attraction, but any trip along this feat of engineering will soon have you understanding why. "The Road", as the name suggests, is a concrete causeway stretching from Saba's airport in the northeast to Well's Bay in the west, linking the islands' four settlements along the way. The views, as it carves its way across the island, are simply breathtaking!

For most of its history, Saba's volcanic terrain made the island particularly inaccessible to the transportation of people and goods, with everything being carried by hand or donkey along steep gruelling trails. Fortunately for the Sabans, this all changed in the 1930s when the decision was taken to… build the road that couldn't be built!
Together with his fellow islanders, and without the use of heavy machinery, the self-taught engineer J.L. Hassell made the impossible happen with the first section from Fort Bay to The Bottom taking just 5 years to complete. Fully completed in 1958 the steep, winding curves of The Road are an adventure in themselves with taxi tours readily available.
Visit a local artisan
Saba has produced a number of artists, whose works can be viewed and purchased at the Peanut gallery in Windwardside. But what it's most famous for is the intricate needlework designs known as Saba Lace. This handicraft, brought to the island in the late 19th Century, soon became a cottage industry for the local women, a tradition that has carried on through the ages. The Saba Artisan Foundation is a great place to see examples of the island's trademark lacework as well as pick-up a souvenir or two.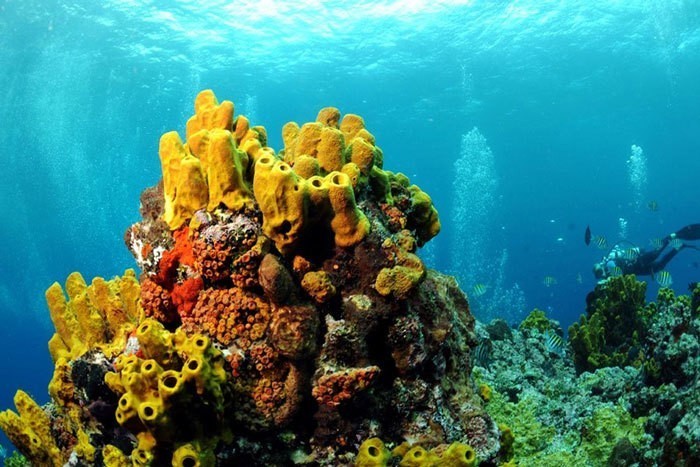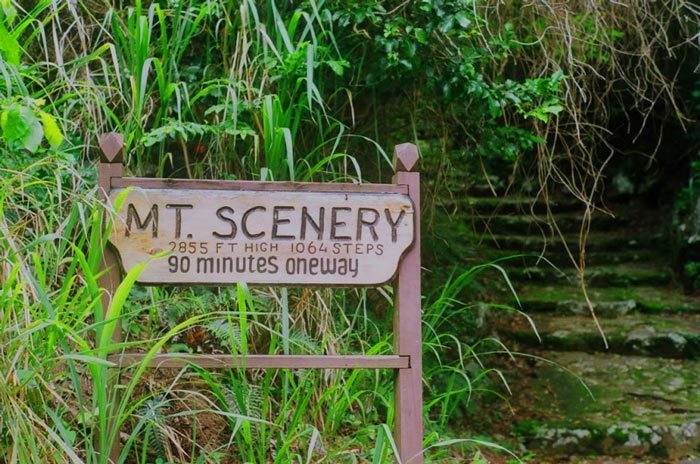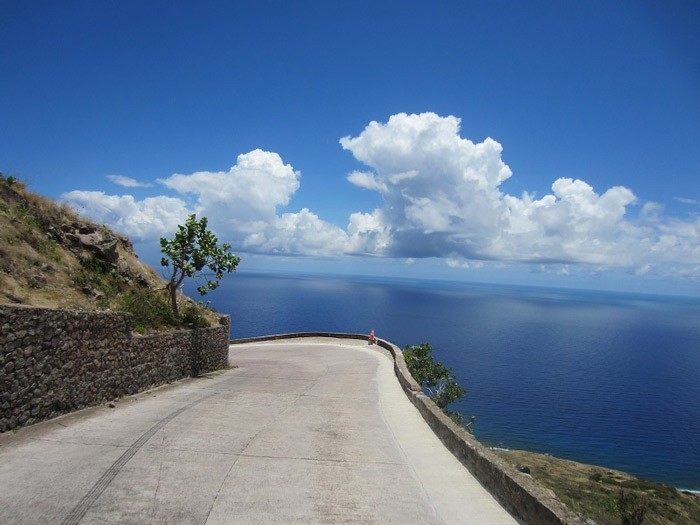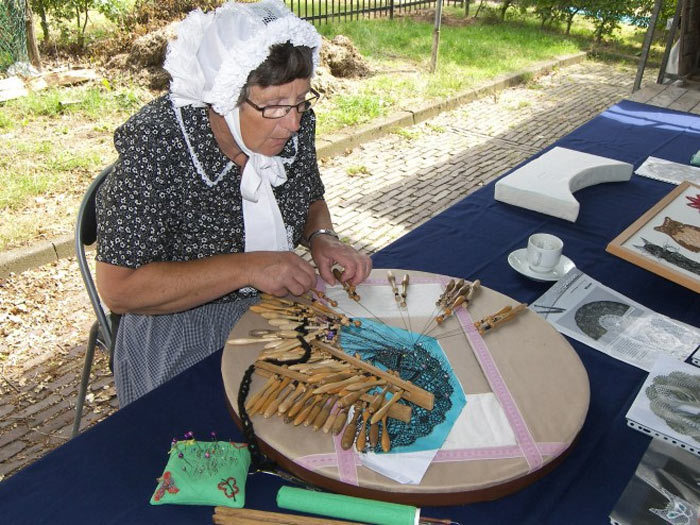 BEST PLACES TO EAT & DRINK ON SABA
For its size, Saba offers a great range of dining options from local bakeries and cafes to family-friendly restaurants as well as a few fine-dining options too. As with accommodation choices, most of the restaurants and bars are located in Windwardside.
Scout's Place - Windwardside
Offering a large variety of local, European and American dishes, this very popular restaurant and bar features a cosy décor and a couple of terraces with great ocean and village views.
The menu highlights fresh, local ingredients including famous Saba lobster, fresh fish as well as other Caribbean specialties. Open for (their legendary) breakfast, lunch and dinner "….every night at Scout's Place is a special night", with themed cuisine evenings completing the picture.
The Deep End Bar & Grill - Fort Bay
Overlooking the harbour, this friendly breakfast and lunch spot is a favourite amongst locals and tourist alike, offering great food in a relaxed and comfortable atmosphere.
Choose from home-style breakfasts and Caribbean inspired lunches to pub-style sandwiches, burgers and salads. Located directly above Saba Deep dive centre, it's a great place to meet the locals and grab a drink or a bite to eat during surface intervals. Freshly caught fish also features on the menu. Open until 3:00pm.
Saba Snack - Windwardside
For a quick fix of great Mexican food, fresh fruit juices and ice-creams look no further than this family-run cafeteria. Open for breakfast, lunch and dinner this is probably the cheapest place to eat on Saba.
Tropics Cafe - Windwardside
This welcoming eatery, with panoramic ocean and hillside views, is another popular choice. Linked to Juliana's Hotel (same owners) you can relax by the pool with a cool refreshing drink or choose something from their extensive menu of unique Saban and International dishes. Serving delicious hearty breakfasts, appetizing lunches and dinners, they also host a weekly 'Virtual Hike' film screening as well as other themed events.
Brigadoon - Windwardside
Housed in an original 19th Century Saban home, this quaint restaurant is regarded by many as one of Saba's finest. Enjoy Mediterranean and American cuisine along with local Caribbean specialties and signature entrées.
Fresh lobster, catch-of-the-day and steaks are fixed features on the menu along with daily specials that include Sushi and prime-rib. Excellent service, a charming interior and home-made desserts to die for! Reservations recommended.
Queen's Gardens – The Bottom
At the base of the rain forest, with spectacular views to The Bottom and ocean below, dining here is a casually elegant affair. Fresh seafood and tender prime cuts form the basis of an International menu with a focus on delivering fresh and exciting flavours. A formal dining room and alfresco terrace offer a choice of memorable dining experiences.
Eden Restaurant - Windwardside
The lush roof garden setting of this excellent restaurant makes it one of Saba's finest dining experiences. Featuring an eclectic Continental menu, that uses only the highest quality produce and the freshest of ingredients.
Open only for dinner, the serene ambience of the candlelight patio is the perfect setting to enjoy a romantic meal. There's a good selection of wines as well as indulgent desserts.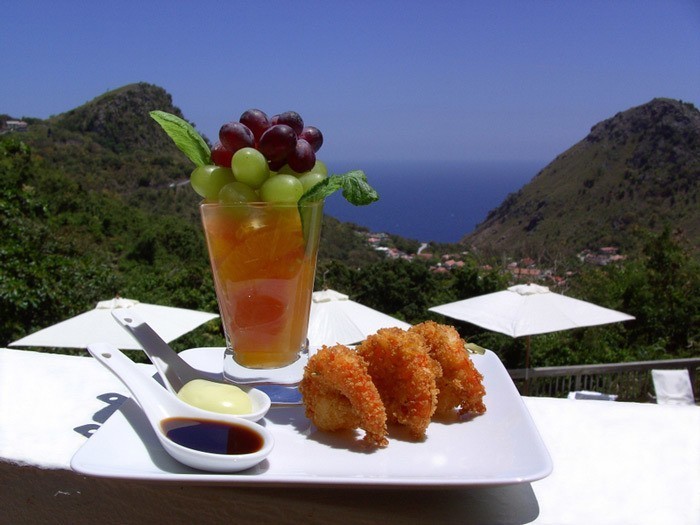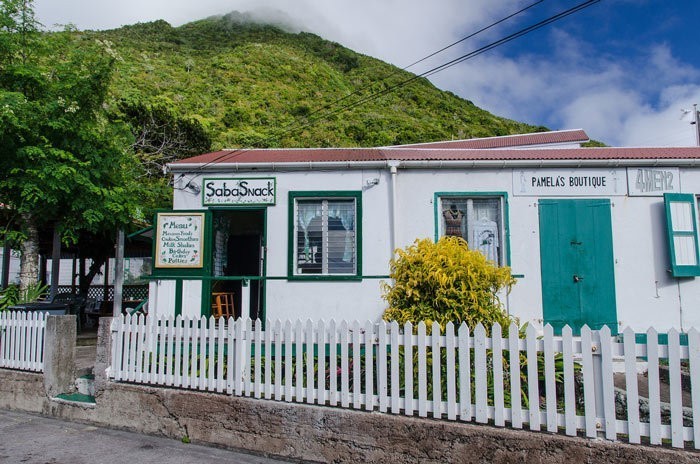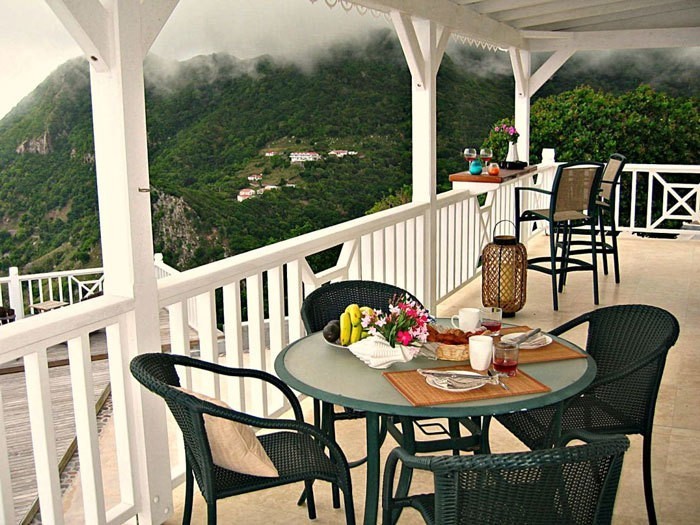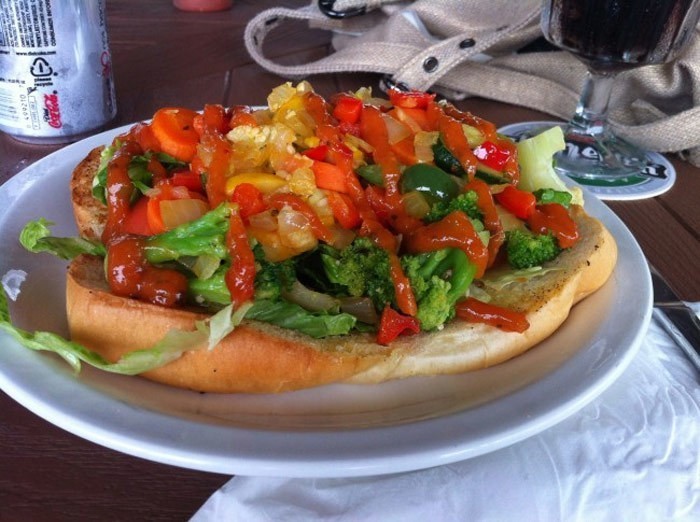 With less than 2000 inhabitants, nightlife of Saba is a very local affair. As with most things, Windwardside is where the action is when the sun goes down, with several restaurants doubling as watering holes.
Scout's Place – Windwardside
Friday night is "Sabaoke Night" – Saba's take on karaoke – making this lively bar the place to be for Sabans and tourists alike. Soak up the local atmosphere while sipping on one of their famous Caribbean cocktails, or maybe some home-made Saba Spice. Happy Hour is from 5pm to 6pm.
Swinging Doors – Windwardside
This neighbourhood watering-hole has a Wild West flavour and is the perfect spot to relax with a beer or two. The atmosphere is fun, the bar is well stocked, and the friendly proprietor/bartender always a story or two up his sleeve. Don't miss their specialty BBQ chicken & rib nights.
Tropics Café – Windwardside
Cool cocktails, friendly staff and a laid-back vibe make this popular bar/restaurant a great place to spend an evening. Try some of their home-made infused liquors and don't miss T.G.I.F with 2-for-1 beers and free Jell-O shots every Friday. Happy Hour is between 4pm and 6pm (except Mondays).