Until further notice, boats will depart from the Simpson Bay Police Station Dock, located near Simpson Bay Bridge.
DISCLAIMER: Given the ongoing disruption to ferry services, passengers should be aware that schedules are subject to change or cancellation without notice. Should a trip be cancelled, the ferry operator will do their utmost to secure a seat for you on another vessel if available, on another day with their own vessel or a full refund will be issued. If the ferry is unable to travel due to weather or mechanical failure, you will be notified of this and can chose another day to travel, or receive a full refund. In all cases, neither The Edge Ferry, nor StMartinbookings.com, will be liable for any additional costs incurred.
"Edge" - Saba Ferry
From world renowned diving, superb hiking and spectacular nature, the mystical island of Saba has it all. Travel on the "Edge" ferry to the Dutch island of Saba and discover why it's affectionately known as the "Unspoiled Queen" of the Caribbean. An eco-paradise both above and below the water, Saba is one day trip not to be missed. In just 90 minutes you can be transported from the hustle and bustle of St Maarten to Saba – a mystical island getaway.
The "Edge" high-speed ferry travels from St Maarten to Saba three times a week – Wednesdays, Fridays and Sundays – temporarily departing from the Simpson Bay Police Station Dock and arriving at Saba's main ferry terminal and harbour – Fort Bay. You can check schedules, get live seat availability and make online bookings right here! Just choose your route, enter your dates and number of passengers and press 'Search'.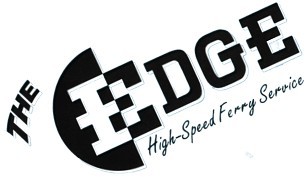 High-speed ferry to Saba
Operated by St Maarten based Aqua Mania Adventures, the "Edge" ferry to Saba makes for a perfect day trip to this nature-lovers utopia. Departing at 9:00am from the Simpson Bay Police Station Dock, the "Edge" will whisk you in comfort across the Caribbean Sea to neighbouring Saba in just 90 minutes! Once on board, sit down, relax and enjoy the spacious ventilated cabin with complimentary refreshments served at the open bar by their professional and friendly crew. The wave-piercing design of their "Edge I" and "Edge II" vessels strive for a smoother ride, although weather conditions may result in the crossing being bit bouncy.
Upon arrival at Saba, a world of discovery awaits. Above the water you can spend the day touring the island by taxi, take a guided hike along one of the island's many trails or perhaps a walk up Mt Scenery with its spectacular views back across to St Maarten, St Barths and St Eustatius. For scuba divers, the island's beauty descends below the water, where colourful corals, sheer walls and an abundance of marine life await.
A variety of tour packages are available through Aqua Mania for a complete island experience:
Lunch & Taxi Tour package
Hiking package
Guided Hiking package
Scuba Diving package (certification card required)
Contact us for more information and prices on Saba tour packages with Aqua Mania and the "Edge" ferry.
The ferry departs Saba again from the Fort Bay Ferry Terminal (only a 10-15 minute taxi ride from Windwardside) at 3:30pm, giving you plenty of time to enjoy everything Saba has to offer, and gets you back to St Maarten for around 5:00pm.
Features:
Special Day Trip rates
Journey time only 90 minutes
Ventilated passenger cabin
Complimentary refreshments (beer, soft drinks, bottled water)
Restrooms available onboard
Fully insured
Designed and built to International Standards
Trained and professional crews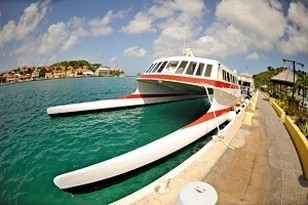 ST MAARTEN

- Simpson Bay Police Station Dock

SABA

- Fort Bay
WEDNESDAY
FRIDAY
SUNDAY
Dep.
Arr.
Dep.
Arr.
Dep.
Arr.
9:00am
10:30am
9:00am
10:30am
9:00am
10:30am



SABA

- Fort Bay

ST MAARTEN

- Simpson Bay Police Station Dock
WEDNESDAY
FRIDAY
SUNDAY
Dep.
Arr.
Dep.
Arr.
Dep.
Arr.
3:30pm
5:00pm
3:30pm
5:00pm
3:30pm
5:00pm
Simpson Bay Police Station Dock
Airport Road, St Maarten
Check-in times: St Maarten = 8:15am // Saba = 3:00pm
Terminals:
St Maarten
Saba

Simpson Bay Police Station Dock - near Simpson Bay bridge
Fort Bay
Luggage Allowance:
1 x (small) carry on (free of charge)
1 x checked bag (US$10 compact/medium bag // US$20 large/over-sized bag)
Please Note: Schedules are subject to change without prior notice
Prices:
All Departure Taxes/Port Fees are INCLUDED in the prices below!
Day Trip

Adult
= US$100

(12+ yrs)

Child
= US$60

(2-11 yrs)

Infant
= US$25

(<2 yrs)
One way

Adult
= US$65

(12+ yrs)

Child
= US$38

(2-11 yrs)

Infant
= US$15

(<2 yrs)
Return

Adult
= US$130

(12+ yrs)

Child
= US$75

(2-11 yrs)

Infant
= US$30

(<2 yrs)
Departure Taxes:
All prices above already INCLUDE the Departure Tax/Port Fee - there's nothing more to pay!
| | |
| --- | --- |
| Day trips & Return trips | = US$20 |
| One way departing St Maarten | = US$10 |
| One way departing Saba | = US$10 |
Additional Infomation:

IMPORTANT: A valid passport is required for travel to/from Saba
Check-in procedure
Passengers travelling to Saba should arrive at the dock by 8:15am to check-in for their 9:00am departure. Just present your StMartinbookings e-ticket to the Aqua Mania staff at their Pelican Marina office and they will provide you with your Boarding Pass. Check-in closes 15 minutes before departure scheduled departure time.
Luggage allowance
In order to accommodate passenger seating, both "Edge" vessels have a restricted luggage policy. Passengers may only take one carry-on (free of charge) and one checked bag charged at US$10 for compact/medium bags and US$20 for large/over-sized bags. Should you have additional luggage, please contact us before making a reservation, as excess baggage fees may apply. The "Edge" ferry does not operate as cargo vessels and Aqua Mania reserves the right to refuse transporting any excess luggage.
Cancellations
100% refund if cancelled more than 2 weeks before departure
50% refund if cancelled less than 2 weeks but more than 48 hours before departure
No refund if cancelled less than 48 hours before departure or for No-shows
Date changes possible at any time, subject always to availability
Travel from St Maarten to Saba with the "Edge" fast ferry. Immediate online bookings and instant e-ticket confirmations, with the "Edge" inter-island ferry – Edge I and Edge II – book now at StMartinbookings.com