"Edge" - Fast Ferry to St Barths
Hop aboard the "Edge" ferry and discover St Barths - "The Jewel of the Caribbean". This gem of an island is just a short 45 minute ride away from St Maarten's Simpson Bay. Famed for pristine beaches, designer boutiques, luxury yachts and celebrities…. it's no wonder that St Barths, with its jet-set clientele, is considered by many as the French West Indies' most flamboyant island.
With weekly departures on Mondays, Wednesdays and Thursdays, the "Edge" ferry is the perfect way to experience all St Barths has to offer. To check availability and book tickets from St Maarten to St Barths, just fill in the search box and follow the booking process. You can pay by credit/debit card or PayPal and receive immediate e-tickets for the "Edge" fast ferry to St Barths.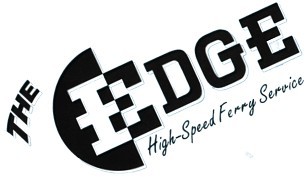 St Barths Day Trip
Check-in for your 9:00am ferry to St Barths at the Aqua Mania office - located at Pelican Marina, in front of the Simpson Bay Resort. Remember to have a valid passport with you as St Barths has a very strict immigration policy, some nationalities may require a visa.
In just 45 minutes the "Edge" ferry will whisk you across the Caribbean Sea to your St Barths port of arrival – Gustavia. During the short crossing you can relax in the spacious ventilated cabin and enjoy complimentary refreshments from the bar.
Gustavia is the main hub of activity on St Barths. From here taxis and rental cars are ready and waiting for you to explore the island. At a little over 8 square miles, St Barths is easy to get around in a day. Visit its famous white-sanded beaches and admire the panoramas as small curving roads wind around steep hills, offering breath-taking views along the way.
Stop for lunch at famous Nikki Beach or head back to Gustavia, with its Swedish forts, luxury shops, waterfront cafes and harbour full of mega-yachts. But St Barths is more than just shopping and fine dining. There's also a variety of activities to keep you busy, such as scuba diving, snorkelling, hiking, and surfing along with a variety of other watersports.
The ferry leaves Gustavia at 4:00pm so you'll just have some time to pick up those last souvenirs before heading back to St Maarten after a day of sights and delights!
The purpose built "Edge" high-speed catamarans, with their wave-piercing design, make getting to/from St Barths easy; although sometimes the ride over can be a little bouncy.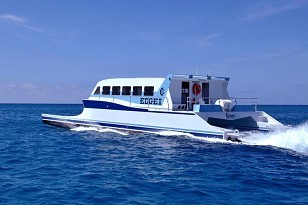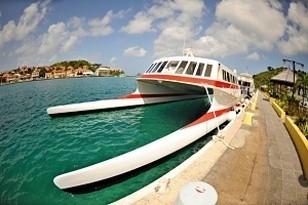 Features:
Special Day Trip rates
Journey time only 45 minutes
Weekly departures on Mondays, Wednesdays and Thursdays
Ventilated passenger cabin
Complimentary refreshments (beer, soft drinks, bottled water)
Restrooms available onboard
Fully insured
Designed and built to International Standards
Trained and professional crews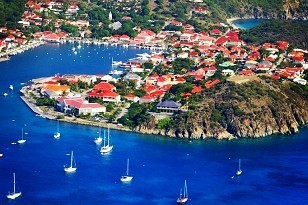 ST MAARTEN

- Simpson Bay

ST BARTHS - Gustavia

MONDAY
WEDNESDAY
THURSDAY
Dep.

Arr.

Dep.
Arr.
Dep.
Arr.
9:00 AM

9:45 AM

9:00 AM
9:45 AM
9:00 AM
9:45 AM



ST BARTHS

- Gustavia

ST MAARTEN

- Simpson Bay
MONDAY
WEDNESDAY
THURSDAY
Dep.
Arr.
Dep.
Arr.
Dep.
Arr.
4:00 PM
4:45 PM
4:00 PM
4:45 PM
4:00 PM
4:45 PM
Pelican Marina,
Simpson Bay, St Maarten
Check-in times: St Maarten = 1 hour before departure // St Barths = 30 minutes before departure
Terminals:
St Maarten
St Barths

Simpson Bay Resort (37 Billy Folly Road)
Gustavia Ferry Dock
Luggage Allowance:
1 x (small) carry on (free of charge)
2 x checked bags - not more than 50lbs - charged at US$20 per bag
Please Note: Schedules are subject to change without prior notice
Prices:
All Departure Taxes/Port Fees are INCLUDED in the prices below!
Day Trip

Adult
= US$100

(12+ yrs)

Child
= US$55

(2-11 yrs)

Infant
= US$25

(<2 yrs)
One way

Adult
= US$75

(12+ yrs)

Child
= US$38

(2-11 yrs)

Infant
= US$25

(<2 yrs)
Return

Adult
= US$150

(12+ yrs)

Child
= US$76

(2-11 yrs)

Infant
= US$50

(<2 yrs)
Departure Taxes:
All prices above already INCLUDE the Departure Tax/Port Fee - there's nothing more to pay!
Additional Information:
IMPORTANT: A valid passport is required for travel to/from St Barths - some nationalities may require a visa
Check-in procedure
Passengers travelling to St Barths should arrive at the dock to check-in 1 hour prior to departure. Just present your StMartinbookings e-ticket to the Aqua Mania staff at their Simpson Bay Resort office and they will provide you with your Boarding Pass and assist you with any luggage. Check-in closes 30 minutes before the scheduled departure time.
Luggage allowance
In order to accommodate passenger seating, both "Edge" vessels have a restricted luggage policy. Passengers may only take one carry-on (free of charge) and two checked bags - not more than 50lbs - charged at US$20 per piece. No boxes permitted. Anyone planning to carry more than this should contact us before making a reservation, as excess baggage is restricted.
Cancellations (see the general Terms and Conditions for cancellation charges applicable to all cancellations)
100% refund if cancelled more than 24 hours before departure
50% refund if cancelled less than 24 hours before departure
No refund for No-shows
Date changes possible at any time, subject always to availability
DISCLAIMER: Please note that schedules are subject to change or cancellation without notice. Should a trip be cancelled, the ferry operator will do their utmost to secure a seat for you on another vessel if available, on another day with their own vessel or a full refund will be issued. If the ferry is unable to travel due to weather or mechanical failure, you will be notified of this and can choose another day to travel, or receive a full refund. In all cases, neither The Edge Ferry, nor StMartinbookings.com, will be liable for any additional costs incurred, most especially at this point when these routes are new and transporting very small numbers. We regret the inconvenience to clients, it is without intention or negligence.