Luxury Hotels & Resorts St Barths
Saint Barth has been established as one of the ultimate luxury destinations in the Caribbean for a while now. Boasting luxury St Barts accommodation beyond the wildest dreams of most ordinary folk, this destination is perfect for a glamourous splurge. Whether you're planning for that perfect honeymoon, a luxury family holiday or simply looking for the very best facilities and levels of service, you're guarunteed to be able to find something that will go above and beyond your needs. In fact, you'll be spoilt for choice! Each of our top recommended Saint Barthélemy properties offer the very best levels of comfort, with spectacular amenities, fine dining and unrivalled service.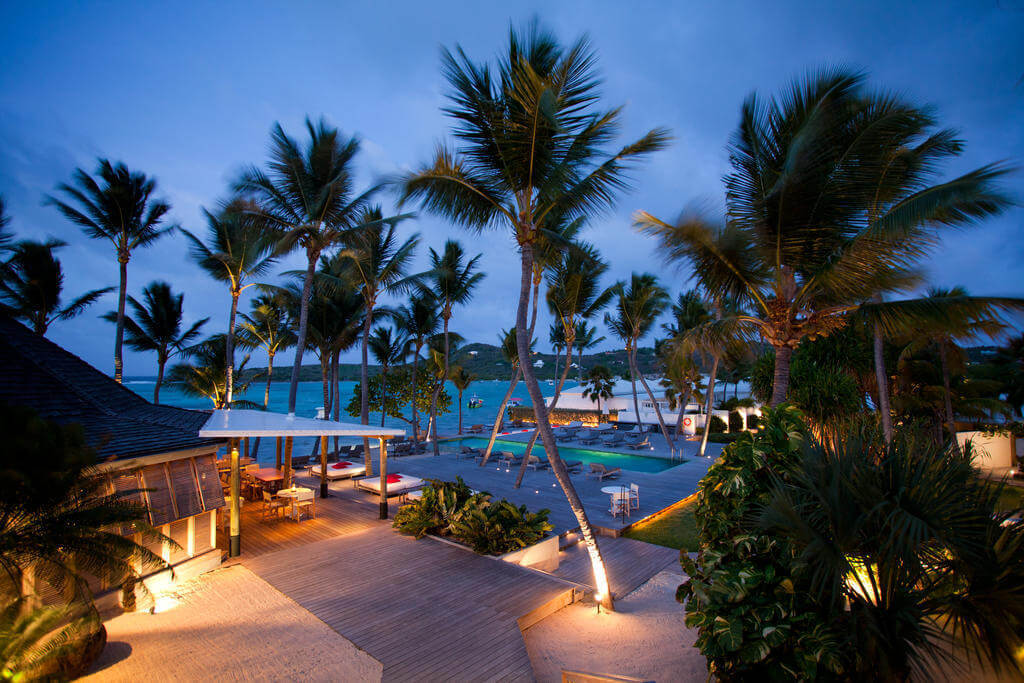 Le Sereno is located on the beachfront of the Grand Cul-de-Sac offering amazing panoramic ocean views. Guests can enjoy these luxurious and spacious suites all featuring four-poster beds overlooking the water and large wooden terraces with sunbeds.
The on-site restuarant is run by world-famous restaurateur Giuliano Lotto, serving exquisite cuisine with an Italian accent is sure to make for unforgettable waterfront dining experience. Or why not visit the bar and lounge to enjoy one of the many delicious cocktails on offer.


A 5-Star tropical resort paradise located on the secluded eastern tip of St. Barth, this exotic private retreat features luxury colonial villas in the heart of a lush palm grove just off Toiny beach.
Relax in a private infinity pool, enjoy a massage at the Serenity Spa, and explore the crystal waters off the adjacent beach. Acclaimed Restaurant Le Gaiac boasts talented Chefs that artfully blend French and local cuisine. Hotel Le Toiny is considered by many to be the most discrete and elite accommodation experience on St Barthélemy.


Set directly on Grand Cul de Sac Beach, this luxurious 5-star hotel offers a spa, outdoor pool and lush gardens. The hotel boasts a beach bar and 3 restaurants, serving excellent French cuisine.
Each elegant air-conditioned room and suite features bright Hawaiian-style décor and a terrace overlooking the sea or gardens. The Guanahani is just a 2-minute drive from Playa Marigot Beach, while Gustavia Harbour is within a 15min drive. Free private parking is offered on site.
All our luxury hotels and resorts come with a "Best Price Guarantee" offered in partnership with Agoda.com and Booking.com - the world's fastest-growing online hotel platforms - to ensure we bring you the very best rates. So whether you're planning a luxury honeymoon at Hotel Le Toiny or a super deluxe family vacation at Hill House Villas, you can be sure you'll be getting the best available online rates. For more information about any of our selected hotels, or to check live room availability and prices, just click on the "More Info and Rates" button by your preferred property. You'll instantly be re-directed to our hotel partners' website where you can make an online booking, with immediate confirmation, via their secure system. You can also take a look at our selected mid-range and budget properties.