Hurricane Recovery News
With the passing of the destructive hurricanes Irma and Maria, the territories and islands of Sint Maarten, St. Martin, Anguilla, St. Barths and Saba are forging ahead quickly with dedicated efforts towards sustainable recovery. The Tourist Boards and Governments remain focused on rebuilding stronger and better, ensuring product that attracts back the travelers from throughout the world.
The eye of the storm passed directly over the island of St Martin and grazed Anguilla, making them the worst hit. St Barths also bore the brunt of Irma's destructive force. Saba was lucky to be less affected, though not entirely undamaged.
As reports filter through we will update this page to relect recovery efforts on each island insofar as we are able. We are focussing on news regarding ferry services, hotels, restaurants and activiteis that we feature on our site.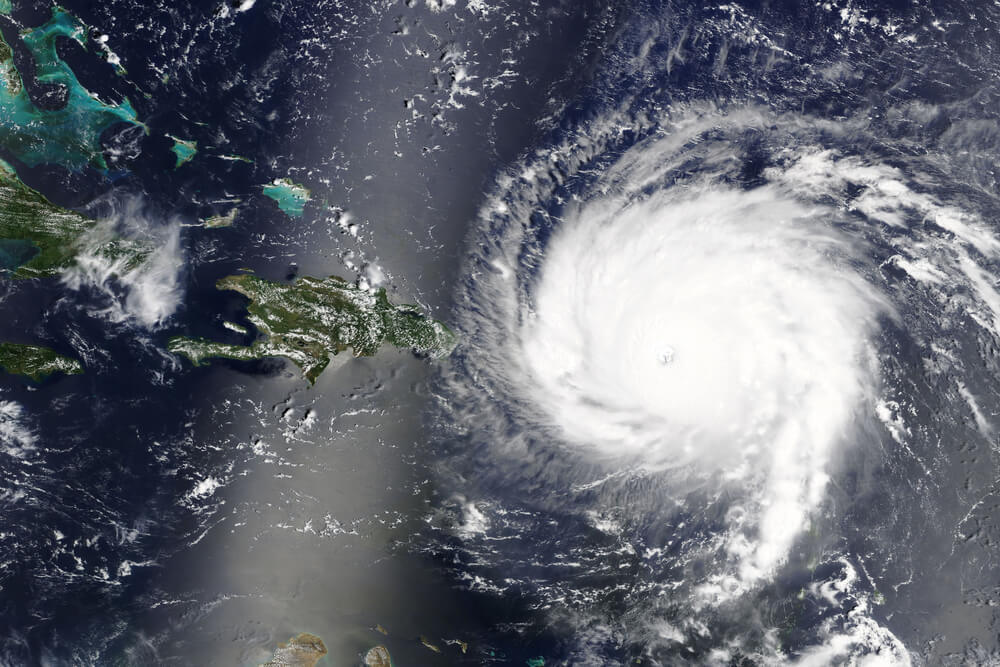 Some good news is that we've already started to see reports of natural beach recovery in Anguilla, indicating that the main draw of the islands (namely the pristine beaches) are already on the mend. The beach pictured is located in Anguilla and this photo was taken 3 weeks after Hurricane Irma.
Many other beaches throughout the region are similarly improving and once the lush foliage of the islands begins to grow back (already starting, with trees budding and shrubs springing up everywhere in the fertile soil and tropical climate), their raw natural beauty will be fully replenished. This is expected to take only a matter of a few short months.
Reports have also been flooding in of the community efforts to rebuild what has been lost, testament to the tremendous strength of spirit and positivity in the face of disaster that the peoples of these islands have. It has been encouraging to see the international support from donors and the co-operative military efforts from the armed services of the Netherlands, United Kingdom and France. Please note: continued monetary aid is sorely needed so if you can, we strongly encourage donating towards the relief effort.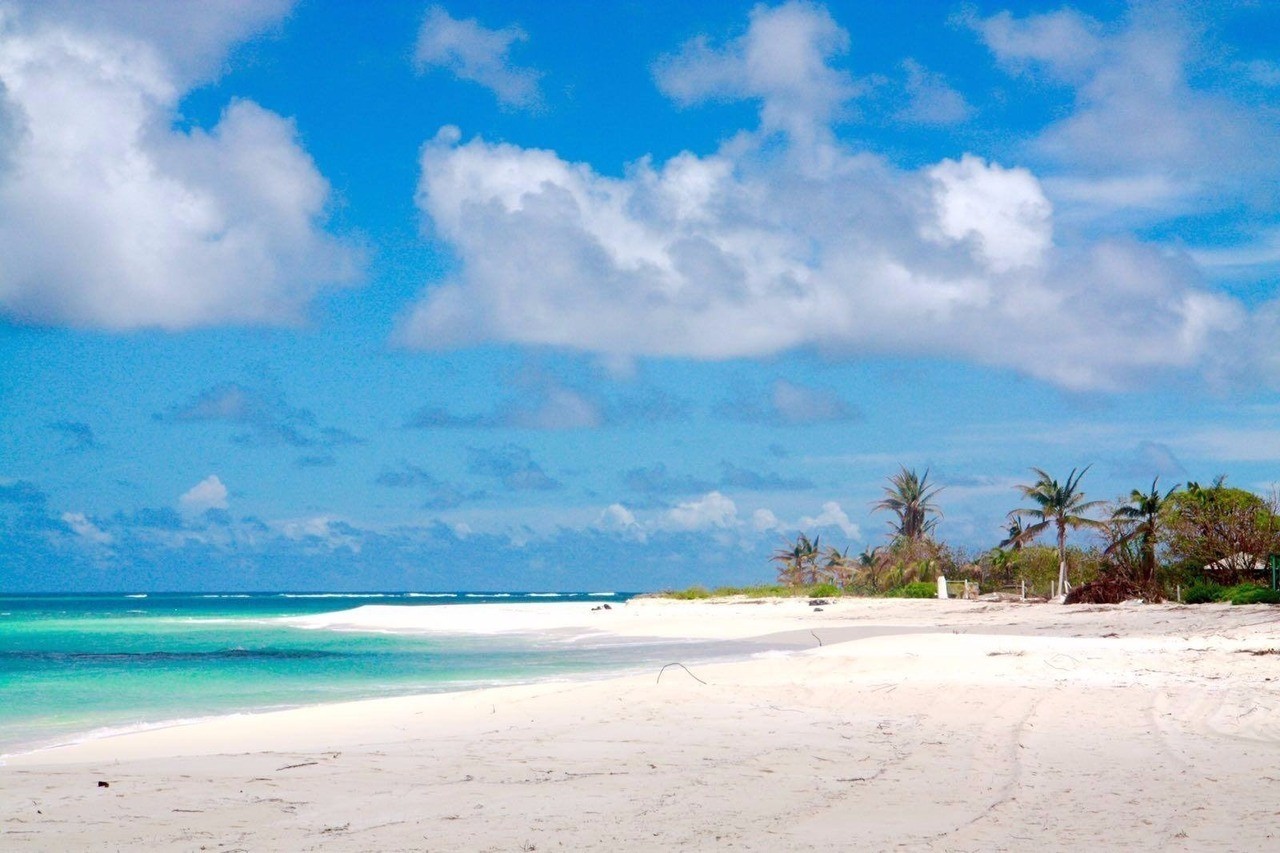 Ferry Services News
Updated: 10/Apr/2018
Voyager (St Martin - St Barts) - ONLINE BOOKING IS NOW AVAILABLE
Voyager ferry has resumed (limited) services to/from St Barts 6 days per week (no servcies on Thursdays). On St Martin, until at least May 2018, all trips depart from/arrive at the Marigot Ferry Terminal. Online booking via our website is now available! Services from/to Oyster Pond will only resume once the dock has been fully repaired.
The Edge (St Maarten - Saba/St Barths) - ONLINE BOOKING IS NOW AVAILABLE
The Edge is back to operating three weekly services between Saba and St. Maarten. Until the end of April 2018, trips departs Saba on Saturdays at 7:00 AM, and Sundays at 3:30 PM, all arriving at the Simpson Bay Police Station Dock approx. 90 minutes later. From St Maarten (Simpson Bay Police Dock) they depart Fridays and Saturdays at 3:30 PM. There is also a weekly same-day return service on Wednesdays, departing St Maarten at 9:00 AM, coming back the same afternoon departing Saba at 3:30 PM.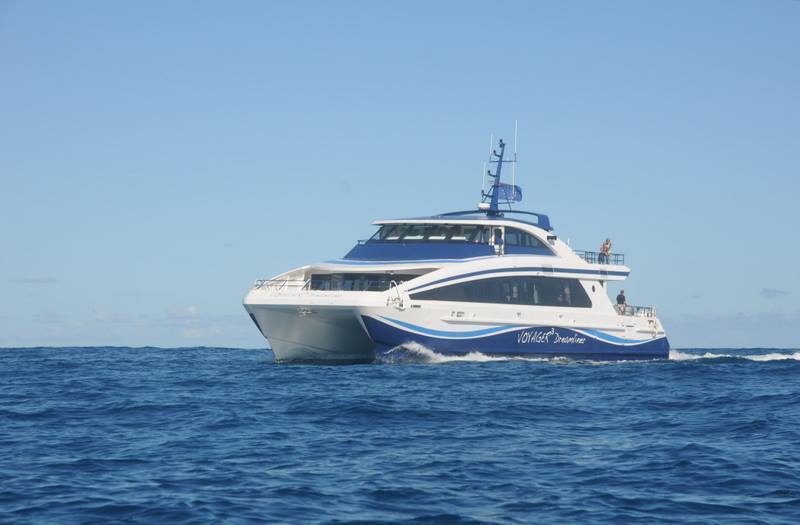 Dawn II – Saba C-Transport (St Maarten - Saba) - ONLINE BOOKING IS NOW AVAILABLE
Saba has survived the passing of both hurricanes and all the staff and crew are safe. The island clean-up has begun and there is come structural damage scattered throughout the island. Mainly a lot of trees and loss of vegetation, but all roads are accessible. Unfortunately, the Dawn II ferry has sustained damage and has been hauled out for repairs through 31 May 2018. We suggest you contact The Edge (see above), or WinAir for alternative travel options.
Due to the damages, all reservations through 31 May 2018 are cancelled
All pre-paid travel during this time can be used for future travel or you can make a request for a full refund, without penalties

Calypso Charters Anguilla (St Maarten - Anguilla) - ONLINE BOOKING IS NOW AVAILABLE
They are now running up to 7 trips in both directions, Monday-Sunday. This is the schedule they are currently authorized to operate:

To Anguilla: 9:00 AM, 10:30 AM, 12:15 PM, 1:45 PM, 3:00 PM, 4:00 PM & 5:00 PM
To St Maarten: 8:30 AM, 9:45 AM, 11:30 AM, 2:30 PM & 4:00 PM
Since the purporse-built St Maatern-Anguilla Dock (near SXM Airport) is still out of service, boats will be operating from the Simpson Bay Police Station, near the Simpson Bay Bridge. Please arrive at least 30 mins before departure so they have time to process all necessary paperwork. Complimentary transportation, between SXM Airport and the Police Dock, is INCLUDED in the Calypso Charters ticket price.
Funtime Charters (St Maarten - Anguilla) - ONLINE BOOKING IS NOW AVAILABLE
Daily fast boat shuttle services have resume between St Maarten and Anguilla:

To Anguilla: 9:00 AM, 12:30 AM, 4:00 PM & 5:00 PM
To St Maarten: 11:15 AM, 1:30 PM, 3:30 PM & 4:30 PM
On St Maarten, since the St Maatern-Anguilla Dock (near SXM Airport) is still out of service, boats will be operating from the Simpson Bay Police Station, near the Simpson Bay Bridge. Please note that transfers between SXM Airport and the Police dock are NOT INCLUDED in the Funtime Charters ticket price. A Transfer Service is however available, but must be paid for locally (cash only) = US$8.00 per person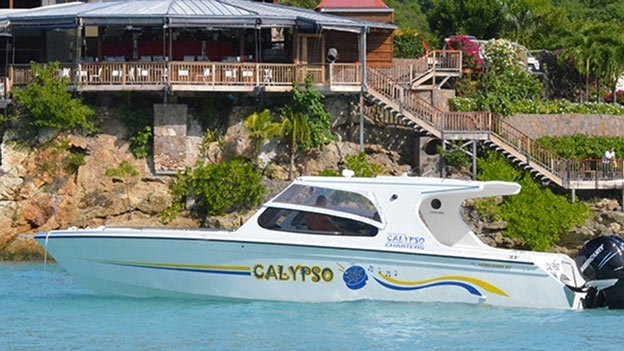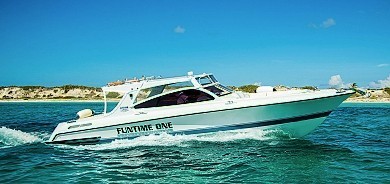 St. Martin Airport Services News
Updated: 05/10/2017
The Minister of Tourism & Economic Affairs has announced that the Princess Juliana International Airport will be open to accept all commercial flights as per October the 10th. The airport had been giving time to get back to a suitable operation level that meets the International Safety Standards. Even with opening the airport, it is still months away from restoring PJIA to its former glory.
Some Airlines are offering sharply reduced rates to SXM throughout october to assist the resumption of commercial travel. Americal Airlines are capping prices at $99 for economy tickets from Miami to Sint Maarten.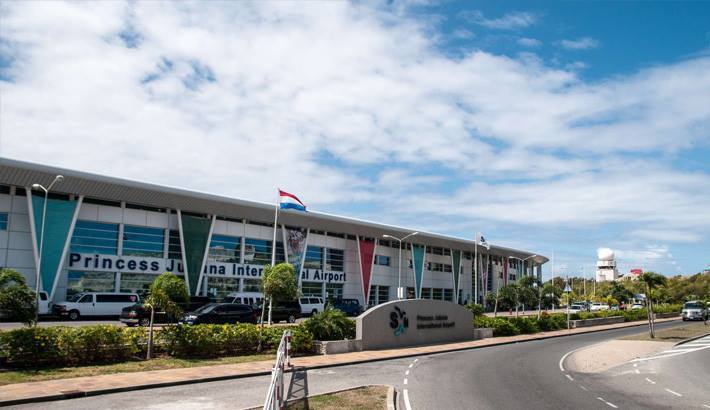 Regional Diving News
Updated: 05/10/2017
After the passage of the hurricane, the staff of the dive operators on Saba, actively assisted the Saba Conservation Foundation with the assessment and restoration of coral reefs in Saba.
Initial results indicated that deep reefs coped surprisingly well as well as the shallow nearshore areas only suffered limited damage. At key sites, in depths between 6 and 20 meters, the reef is intact. More exposed reefs, like the Diamond Rock, revealed some sections with wave impact.
We have yet to hear from all our diving partners, however what we have gathered from social media is that Octopus Divers Sint Maarten were wiped out at their location in Grand Case (French side), however their Dutch side location remained intact and should soon be operational again. Sea Saba look to be unaffected and actively up and running at the moment. Unfortunately, we have not yet received news from any of our recommended dive shops on Anguilla or St Barths.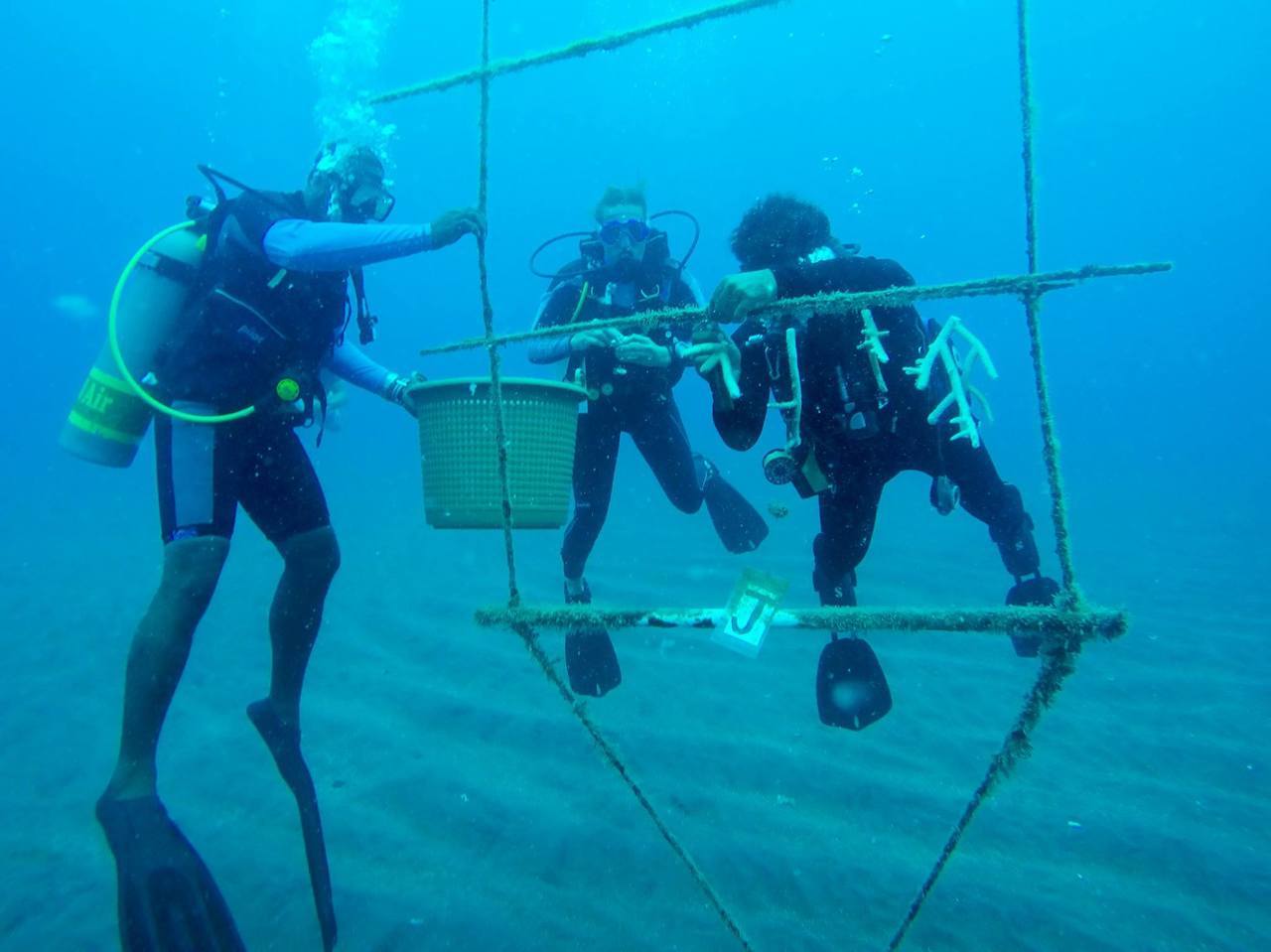 St. Martin attractions News
Updated: 05/10/2017
Dirty Sanchez Crew Bar
A Facebook post on the 8th of September suggests Dirty Sanchez has unfortunately suffered severe damage at their Simpson bay location. The bar at Philipsburg boardwalk looks ok from pictures. If they can, they will rebuild and cary on with the help of donations which can be made via their facebook page.
Loterie Farm (& Fly Zone Zipling)
As can be seen from the photo, Loterie farm and it's stylish deck bar were leveled by the storm . Their location high up on the mountain made them particulary vulnerable to the eye of Irma directly overhead. Rebuilding efforts are already underway and it's encouraging to see that their surrounding lush tropical greenery that had been utterly blown away by the hurricane, is already starting to recover.
It will take time for Loterie farm to fully reopen all activities as they are initially focussing efforts towards restoring the deck, bar and restaurant along witth their accommodation. The zip lines will need proper inspection as they are tethered to trees that may have been damaged in the storm. Rest assured a fully adequate inspection and any necessary repairs will take place and once the forest begins to return to it's former glory naturally, this exciting sport will become available again.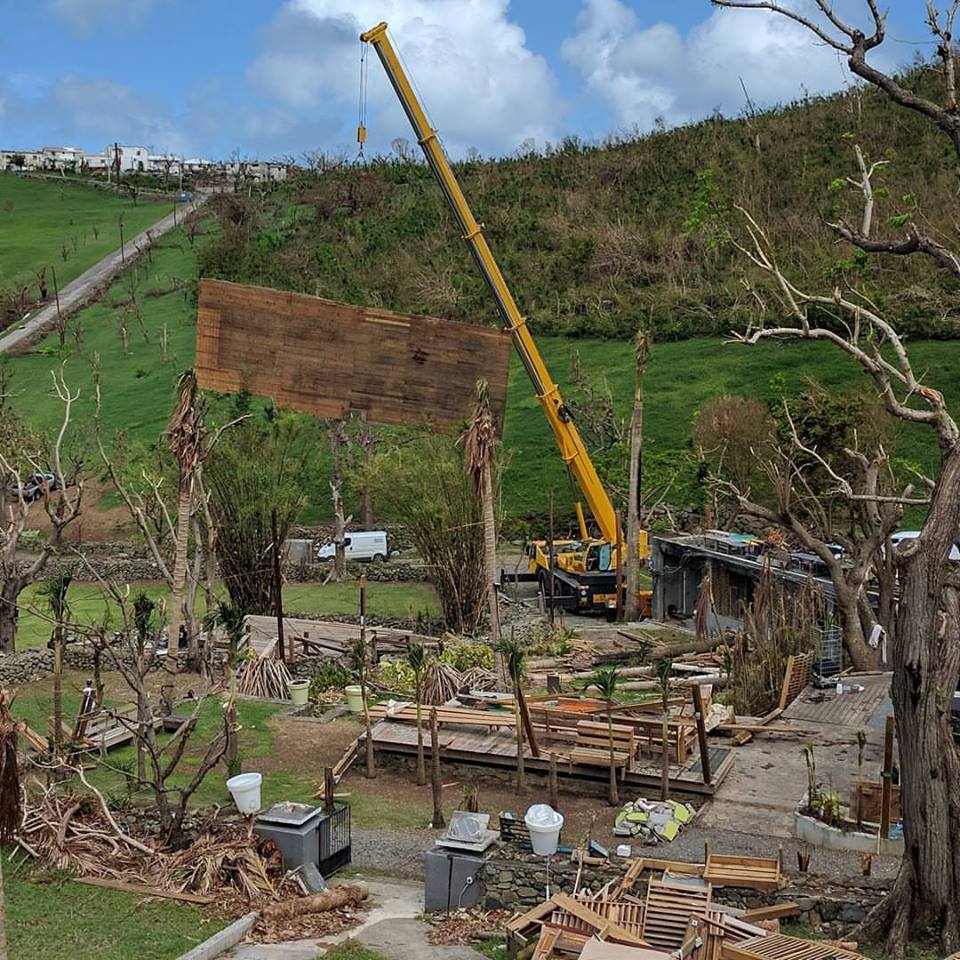 Anguilla attractions
Dolphin Discovery
It has been confirmed that thanks to strict hurricane prevention protocols and dedication of the work team, the personnel and the dolphins are safe and well. Unfortunately, on Anguilla the offices suffered considerable damage.
During the evacuation protocol stage, the Marine Mammal Specialists made sure they had everything ready for the wellbeing of the dolphins, including fish and equipment for safeguarding such as a power plant and fuel.
With the authorization of Jamaica and the Dominican Republic, the dolphins were flown to other habitats, where they all arrived in an excellent state of health. In the case of the staff whose houses suffered damages, they were offered refuge and food in other islands until they can return to their homes.
CuisinArt Golf Resort & Spa
The resort was significantly affected by Hurricane Irma. The owners and management are committed to restoring, rebuilding and reopening both the accommodation and the world-class golf course, as well as helping and supporting the staff through this difficult time.
Their Engineering Team has restored the generators to start the reverse osmosis system and with this, they are offering potable water on a complimentary basis to island residents with the assistance of the Chief Minister and Anguilla's Emergency Disaster Operations.
They are currently closed for restoration to last through the summer of 2018.
The Pumphouse
The Pumphouse was sadly lost during Hurricane Irma. This historic building had a long life and rich heritage. Remarkably, the original bar survived the hurricane and is still intact (pictured). The pumphouse will be rebuilt and hopes are that it will bring as many good times as the old building did before the storm.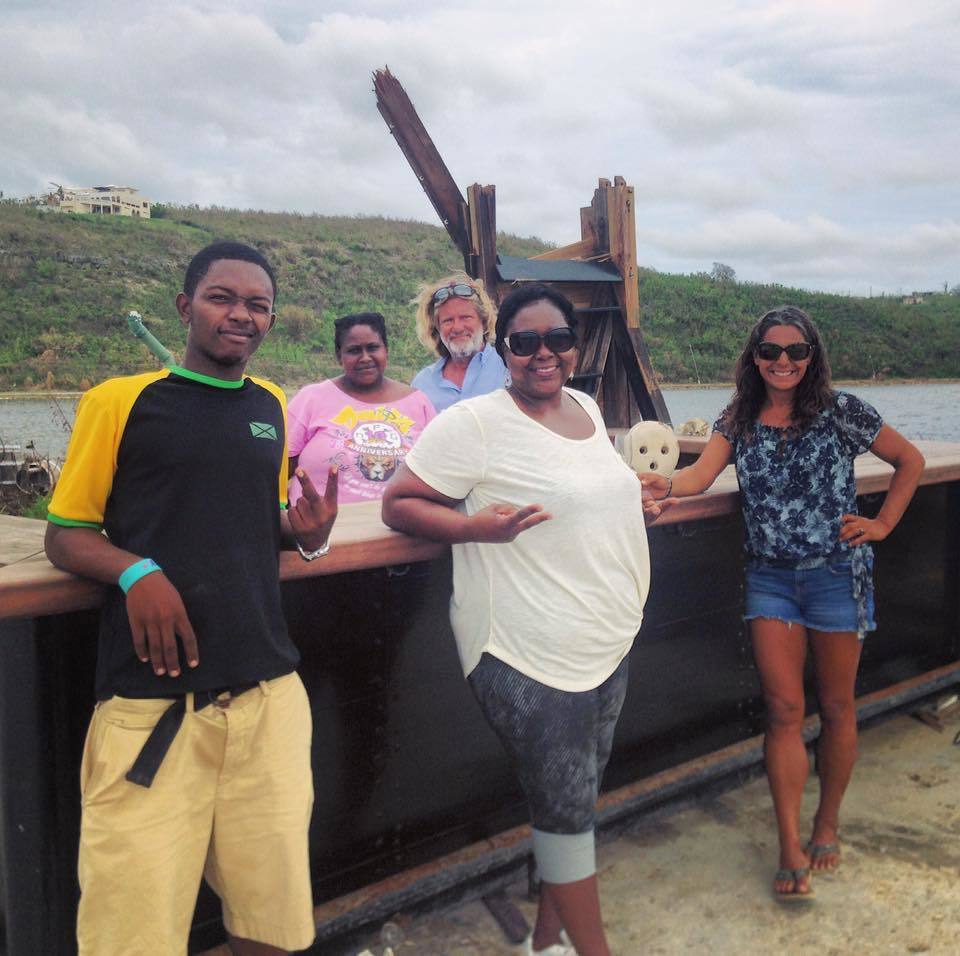 St. Martin Hotel News
Updated: 05/10/2017
Simpson Bay Resort
Simpson Bay is currently open and housing hundreds of Dutch Marines and rescue workers at the moment. The entire staff is accounted for, and are engaged in efforts toward cleaning up the resort, which is not expected to reopen normally until April, 2018. Accommodation bookings can be made however tourist facilities such as the pools, beach, services etc. are not yet avaialble.
Belmond La Samanna
Reopening in April 2018 due to severe damage.
Hotel Mercure
Severely damaged, no further updates.
St. Barths
Currently limited news, however some famous resorts like Eden Rock are confirmed to have been totally destroyed. The main town of Gustavia was also badly affected but the airport is confirmed to be open and most power restored.
Saba
Saba escaped the worst of the storm and as far as we can tell most services, hotels and restaurants are up and running.
Anguilla Hotels
Cap Julaca
Closed for renovations till November 2018 (next year)
CuisinArt Golf Resort & Spa
Tentative opening date in August or September 2018 (next year)
Four Seasons Anguilla Resorts
Tentative opening date in the first quarter of 2018 (next year)
Lloyd's Bed & Breakfast
Tentative opening date early December 2017 (this year)
Royal Palms
Waiting on a tentative openening date
Shoal Bay Villas
Opening November 1, 2017 (this year)
West End Bay Apartments
Open for business