Guest House Anguilla
Anguilla is often regarded as a luxury destination, but beyond the glamour of it's many resorts, a handfull of charming budget hotels are available to allow for a more affordable trip. Choose from a selection of good value, cosy Anguilla B&B's and guesthouses. To save you time searching we've made a selection of the best, cheap hotels Anguilla has to offer. Our tip: look no further than Lloyd's B&B for the best kept secret of Anguilla in a fantastic location atop the hill at Crocus Bay. For more information on the rest of Anguilla, have a look at our useful travel tips.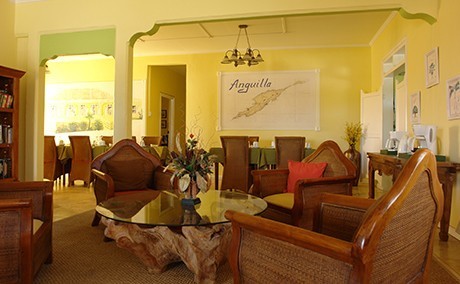 Lloyd's is professionally run, spotlessly clean and radiates colonial charm. It's perfect location atop Anguilla's highest ridge offers views of the whole island and sparkling Caribbean seas below. Warm tropcal breezes blow softly through the windows and open french doors.
The B&B provides good ameneties and is just a short walk from the beach and some of the best restaurants on the Island, Da Vida's and the Pizzeria at Ce Blue. All in all, StMartinbookings consider Lloyd's to be the best choice for affordable accommodation on Anguilla.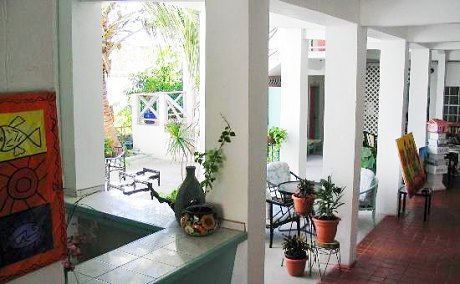 For some of the most affordable Anguilla accommodation, the family-run Sydans is hard to beat. Located right acorss the road from Sandy Ground Beach, this budget-friendly property is perfectly located close to some of the islnd's most popular beach bars and restaurants.

The property comprises of 10 fully equipped self-catering apartments set around an interior courtyard, offering either garden vistas or views out to the salt pond. Each modest apartment comes with air-conditioning, ceiling fans, TV, kitchen and either a king or twin beds.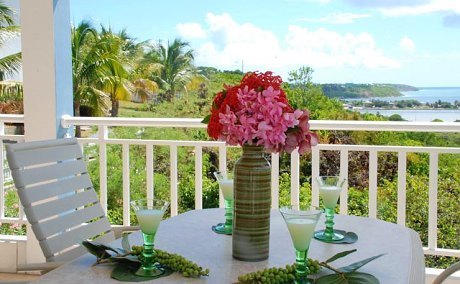 Easy Corner Villas offers a choice of 12 spacious, luxurious villas with outstanding ocean views. From its hilltop location overlooking Sandy Ground, this contemporary three-story villa & condominium complex boasts a choice of one, two or three bedroom units.

Fully furnished, each villa features air-conditioning, kitchen, spacious living and dining area and en-suite queen or kingsize bedrooms, as well as a large veranda looking out to sea. A wide range of restaurants, bars and shops are all within a short 10-minute drive.
All budget hotels and guesthouses come with a "Best Price Guarantee" when offered in partnership with Agoda.com and Booking.com - the world's fastest-growing online hotel platforms - to ensure we bring you the very best rates. For more information about any of our selected hotels, or to check live room availability and prices, just click on the "More Info and Rates" button by your preferred property. You'll instantly be re-directed to the website where you can make a secure online booking. For Anguilla accommodation with other price ranges, see our featured luxury and mid-range properties.