Boats

»

Funtime Charters IV
---
FUNTIME CHARTERS SERVICES RESUME 15 OCT 2022
---
Anguilla Airport Shuttle
Funtime Charters offers fast, regular daily transfers between St Maarten and Anguilla. From the new purpose-built dock, right next to Princess Juliana Airport in Dutch St Maarten, their fleet of modern powerboats will whisk you across the Anguilla Channel in speed and comfort. You can check departure times and live seat availability using the search box on this page. Book and pay securely online and receive instant confirmation and e-tickets for your Anguilla airport transfer.
With up to 6 departures a day, 7 days a week, Funtime Charters provides a quick and easy shuttle service from St Martin airport to Anguilla. Arriving passengers are greeted in the arrivals hall by a Funtime Charters representative and transported the short distance to the dedicated St Maarten-Anguilla Dock. Just present your e-ticket and passport to the check-in staff who will complete the necessary paperwork and assist you with any customs and immigration forms. Check-in starts 45 minutes before departure and closes 15 minutes before the boat leaves.
Sit back, relax and enjoy complimentary refreshments on board. In less than 20 minutes, you'll arrive at the Blowing Point Ferry Terminal, where porters are available to assist you with your luggage through customs & immigration. Passengers can take up to 2 pieces of checked luggage (maximum 50lbs per piece) in addition to 1 piece of hand/carry-on luggage. Any excess luggage will be charged at US$10 per piece, per trip.
Funtime Charters schedule
Daily Departures

ST MAARTEN


St Maarten-Anguilla Dock

ANGUILLA


Blowing Point Ferry Terminal

-

8:30am

(Single sup.)

10:30am

(Single sup.)

9:30am

11:30am

10:30am

12:30pm
11:30am

1:30pm

12:30pm

2:30pm
1:30pm

3:30pm

2:30pm
4:30pm
3:30pm

(Single sup.)

5:30pm

-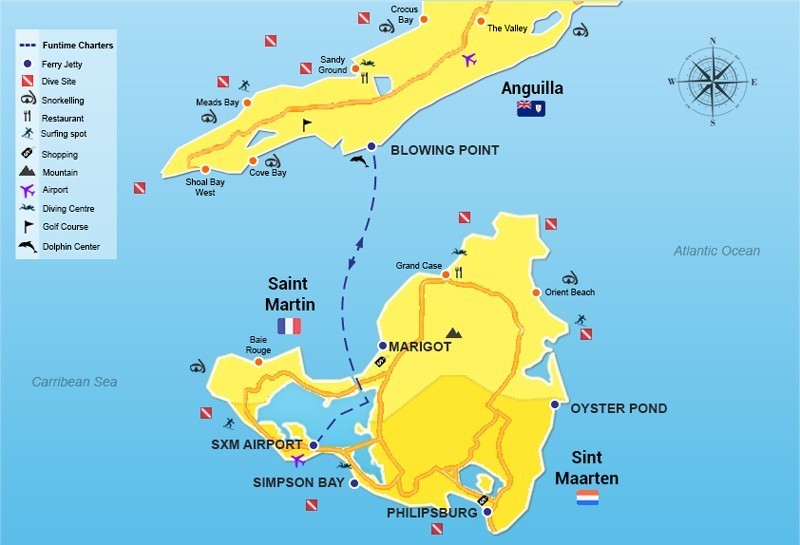 IMPORTANT NOTICE: A valid passport is required for travel to/from Anguilla
.
Departure taxes from Anguilla are CASH only!
The biggest boat in the fleet - Funtime One - is the main vessel used for shuttle services; although you may travel on any one of their five boats, aptly named - Funtime Too; Three; Four; and Five. All boats were built locally on Anguilla between 2002 - 2012 and are made from from wood and/or fibreglass.
SPECIFICATIONS
SPECIFICATIONS
Craft Name:
Funtime One
Length Overall:
40 ft
Type:
Monohull - Wood & Fibreglass
Beam:
10 ft
Draft max:
3 ft
Passengers:
19
Fuel:
Diesel
Installed power:
630 hp
Main Engines:
2 x Yamaha
SAFETY EQUIPMENT
Life Rafts:
Yes
Life Jackets:
Yes
EPIRB:

Yes

Life Ring Buoy + Light:

Yes

GPS:
Yes
Fire Extinguisher:
Yes
Communications:
2 Solara DSC

Travel from SXM to Anguilla with Funtime Charters airport shuttle. Immediate online bookings and instant e-ticket confirmations, with Funtime Charters from St Maarten to Anguilla aborad Funtime One - Book now at StMartinbookings.com