Boats

»

Calypso Charters II
Fast Boat from Anguilla to St Maarten Airport
Calypso Charters operates up to 9 daily transfers between St Maarten and Anguilla aboard their newest powerboat. In less than 20 minutes, you'll be transported in comfort and safety from the purpose-built St Maarten-Anguilla Dock, located right next to the airport, to the Blowing Point Ferry Terminal over on Anguilla. Check scheduled departure times and live seat availability via the search box on the left. Book and pay online for your airport transfer to Anguilla and receive instant e-ticket confirmation.
With their modern fleet of high-speed powerboats, Calypso Charters is the perfect choice for all your Anguilla St Martin transfers. Prices include complimentary transport between Princess Juliana Airport and the St Maarten dock - a Calypso Charters representative will greet you in the arrivals hall and accompany you to the dock for check-in. Present your StMartinbookings.com e-ticket to the check-in staff, along with your passport, and they'll take care of the obligatory paperwork and can assist you in completing any Anguilla immigration and customs forms. Check-in opens 30 minutes before departure, with the last check-in 15 minutes before the boat departs.
For those not planning to stay overnight on Anguilla, Calypso Charters offers daily Anguilla Day Trips at greatly reduced rates. Once onboard, you can sit back and enjoy the spacious comfort along with complimentary refreshments. Each passenger is allowed at least one carry-on bag plus 2 pieces of luggage. Porters at both terminals are available to assist with loading and unloading your bags.
Calypso Charters Schedule between St Maarten and Anguilla
Daily Departures

ST MAARTEN


St Maarten-Anguilla Dock

ANGUILLA


Blowing Point Ferry Terminal

-

8:00am

9:30am
9:15am

11:30am

10:30am

12:45pm
11:30am

1:45pm

12:30pm

2:45pm
1:30pm

3:45pm

3:00pm

4:30pm

4:30pm

5:30pm

-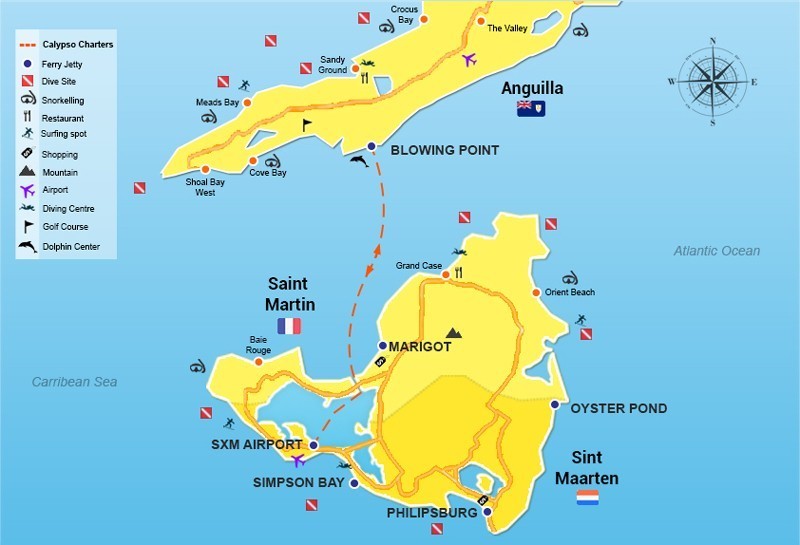 IMPORTANT NOTICE: A valid passport is required for travel to/from Anguilla
.
Departure taxes from Anguilla are CASH only!
One of the newest boats to join the Calypso fleet, Calapyso II, can carry up to 25 passengers and makes light work of the short trip across the Anguilla Channel. It's used primarily for shuttle transfers, although depending on operational needs, you may travel on any one of their five boats.
SPECIFICATIONS
Craft Name:
Calypso Charters II
Length Overall:
42 ft
Beam:
10.6 ft
Draft max:
3 ft
Passengers:
25
Fuel:
300 gl.
Water:
40 gl.
Main Engines:
2 x Yanmar 315hp
Service Speed:
28 knots

Travel from Princess Juliana Airport to Anguilla with Calypso Charters airport shuttle. Immediate online bookings and instant e-ticket confirmations, with Calypso Charters from St Maarten to Anguilla - Book now at StMartinbookings.com