Boats

»

Funtime Charters - Special Service (2 pax)
THIS TRIP REQUIRES A MINIMUM OF 2 PASSENGERS
Getting to Anguilla during COVID-19
Funtime Charters has resumed fast boat services from St Maarten to Anguilla, albeit under adjusted booking terms and conditions due to the current coronavirus pandemic. Travellers currently wishing to visit Anguilla must first gain Pre-approval from both the St Maarten and Anguilla health authorities via online applications. In both cases, the main requirements for pre-approval are to have proof of having been FULLY VACCINATED at least 3 weeks before the date of travel as well as a NEGATIVE COVID-19 RT PCR NASOPHARYNGEAL TEST, conducted within 3-5 days before the arrival date
The use of a face mask is required on all vessels to Anguilla, during transit through ports of entry (airport and seaport) and en route to pre-approved accommodations. Upon arrival in Anguilla, visitors will undergo a mandatory COVID-19 PCR test and health screening. Visitors must then remain at their accommodation/properties until they receive their Port of Entry negative RT-PCR COVID-19 test result. (usually issued within 12hrs of testing). Until then, they should maintain social distancing of at least 3ft from individual(s) not of the same travel group. During this period, only on-site restaurants and/or food delivery services can be used and access to spas/spa services and gyms is prohibited.

IMPORTANT: Only when in receipt of a Port of Entry negative RT-PCR COVID-19 test result, will visitors be allowed to leave their accommodation and explore the island at will.
NOTE: Pre-approval Documents must be presented to the check-in staff, at the dock, before departure
Transfers between SXM Airport and Anguilla will still depart from the dedicated Anguilla-St Maarten dock, located across the road from Princess Juliana Airport in Dutch St Maarten. Funtime Charters has taken all necessary precautions to ensure your Airport Transfer to Anguilla is conducted in line with COVID-19 health and safety protocols, without compromising comfort. Use the search box to check availability and pricing for speed boat transfers to Anguilla during COVID-19.
Trips currently require a MINIMUM OF 2 PASSENGERS, with a roundtrip minimum stay of at least one night. Book and pay securely online and receive instant confirmation and e-tickets for your Anguilla airport transfer.
With up to 8 departures a day, 7-days a week, Funtime Charters provides a quick and easy shuttle service from St Martin airport to Anguilla and back again. Arriving passengers are greeted in the Arrivals Hall by a Funtime Charters representative and transported the short distance to the purpose-built St Maarten-Anguilla Dock. Just present your e-ticket and passport to the check-in staff who will complete the necessary paperwork and assist you with any customs and immigration forms. Check-in starts 45 minutes before departure and closes 15 minutes before the boat leaves.
Sit back, relax, and enjoy the short 25-minute crossing to Blowing Point Ferry Terminal, where porters are available to assist you with your luggage through customs & immigration. Passengers can take up to 3 pieces of luggage (maximum 50lbs per piece) in addition to any hand/carry-on luggage.
Funtime Charters schedule
DAILY DEPARTURES

ST MAARTEN

St Maarten-Anguilla Dock

ANGUILLA

Blowing Point Ferry Terminal

-
8:30am

(min. 2 pax)

9:30am

(min. 2 pax)

9:30am
10:30am
10:30am
11:30am
11:30am
12:30pm
12:30pm
1:30pm
1:30pm
2:30pm
2:30pm

(min. 2 pax)

3:30pm
3:30pm

(min. 2 pax)

4:30pm
-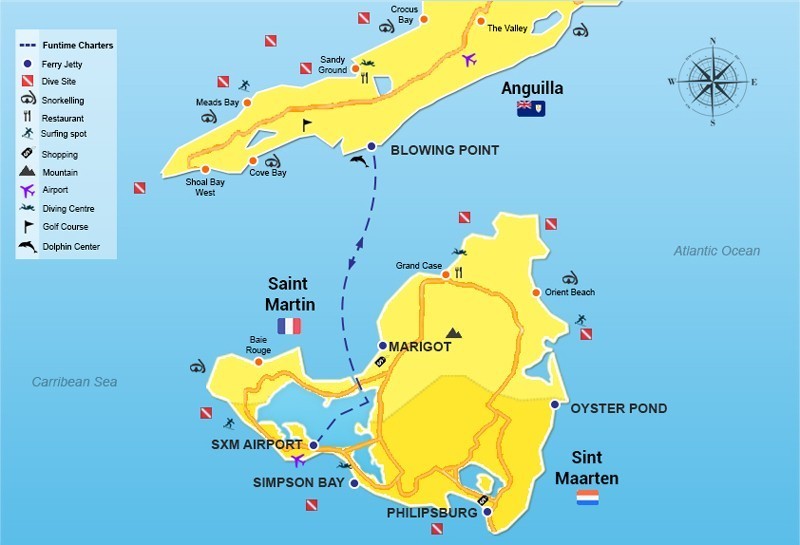 IMPORTANT NOTICE: A valid passport is required for travel to/from Anguilla. Departure taxes from Anguilla are CASH only!
The biggest boat in the fleet - Funtime One - is the main vessel used for shuttle services; although you may travel on any one of their five boats, aptly named - Funtime Too; Three; Four; and Five. All boats were built locally in Anguilla between 2002 - 2012 and are made from wood and/or fibreglass.
SPECIFICATIONS
Craft Name:
Funtime One
Length Overall:
40 ft
Type:
Monohull - Wood & Fibreglass
Beam:
10 ft
Draft max:
3 ft
Passengers:
19
Fuel:
Diesel
Installed power:
630 hp
Main Engines:
2 x Yamaha
SAFETY EQUIPMENT
Life Rafts:
Yes
Life Jackets:
Yes
EPIRB:

Yes

Life Ring Buoy + Light:

Yes

GPS:
Yes
Fire Extinguisher:
Yes
Communications:
2 Solara DSC

Travel from SXM to Anguilla during COVID-19 with Funtime Charters special corona airport shuttle service. Immediate online bookings and instant e-ticket confirmations, with Funtime Charters from St Maarten to Anguilla - Book now at StMartinbookings.com